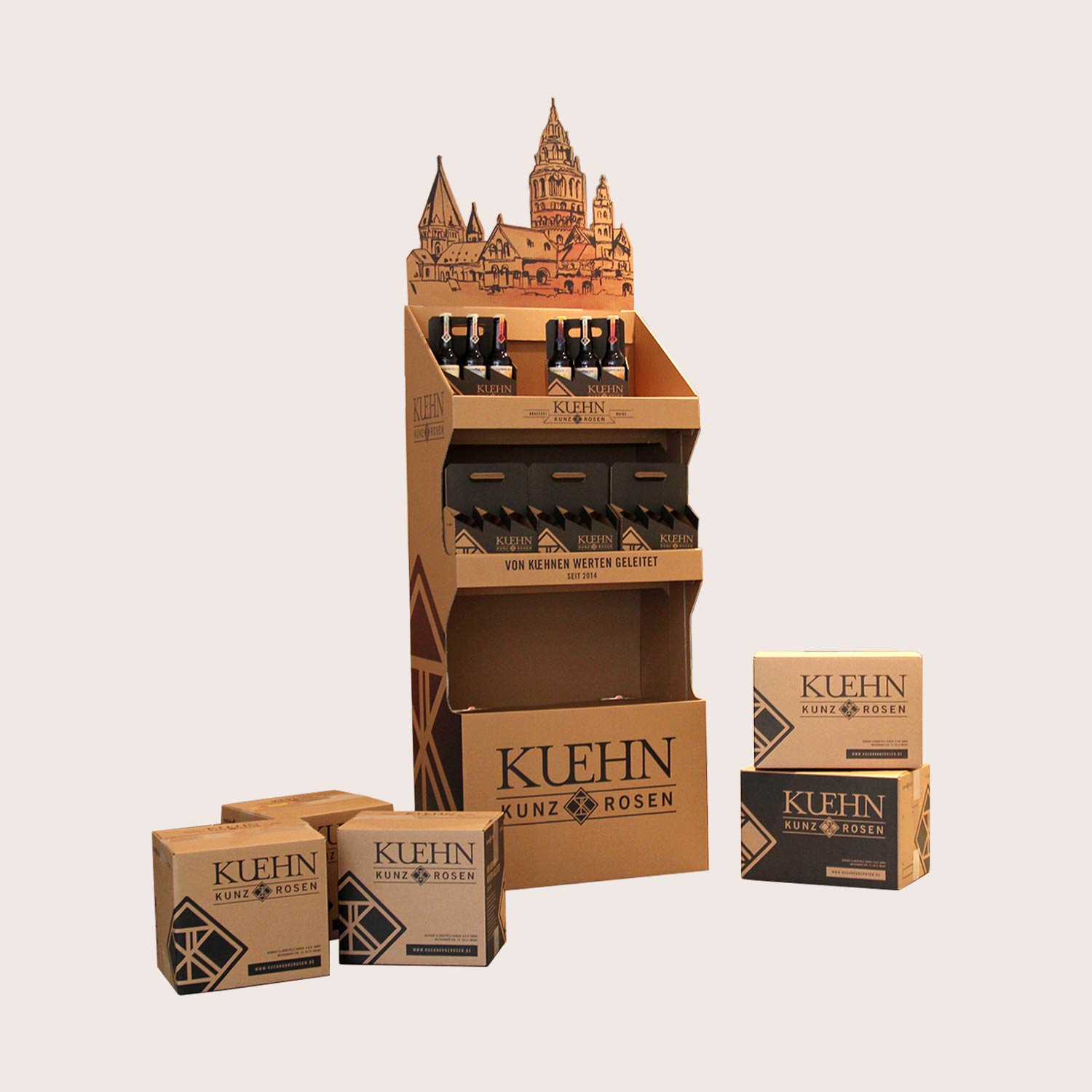 Company:

Kuehn Kunz Rosen

Sector:

Beverages

Type of packaging :

Floor displays, shipping packaging & beverage holders

Product:

Craft beers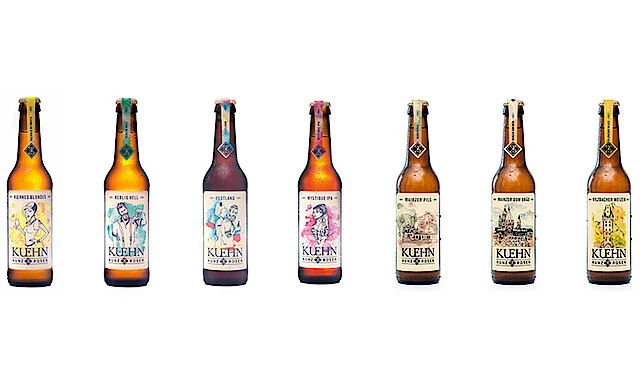 It has been an eventful time since K.K.R. GmbH was founded in 2014. Kuehn Kunz Rosen has developed into a very special start-up in the beer sector. And that's not least due to its exceptional ideas and experimentation in the creation of new and somewhat unusual beer varieties. Kuehn Kunz Rosen started as an itinerant brewer without its own production premises. However, in May 2017 the dream of their own brewery came true. Installed in Altes Rohrlager in Mainz, Kuehn Kunz Rosen's first beer to flow from its own brewery was Mainzer Pils which was the launchpad for the many other beer varieties.
Kuehn Kunz Rosen – passionately unconventional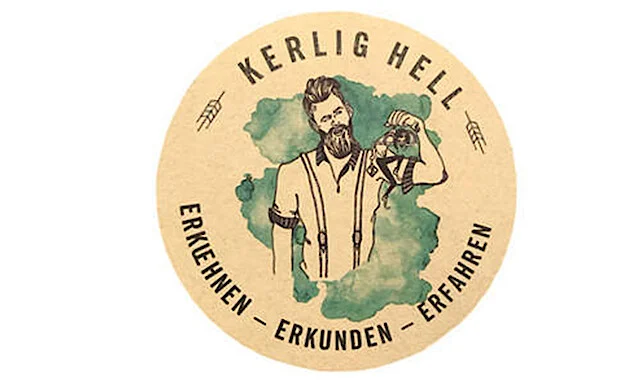 The company Kuehn Kunz Rosen is named after Kunz von der Rosen (1470-1519). Kunz von der Rosen was an adviser and court jester to Kaiser Maximilian I. Inspired by the boldness and intelligence of Kunz von der Rosen, newcomer and managing director, Wendelin Quadt, together with master brewer, Hans Wägner, have developed one of today's most interesting beer start-ups. The passion of the team and the independence of the Kuehn Kunz Rosen Brewery is the basis for their unconventional thinking.
"Creating a bold company like ours with our own Kuehn Kunz Rosen Brewery shows that being bold and passionate pays off. We are contributing new ideas every day and thinking outside of traditional beer conventions. This is also why we are inspired by THIMM. Two companies with a passion for their products are a good basis for success."
Wendelin Quadt, Managing Director at K.K.R. GmbH
Since March 2018 the brewery premises have also included a taproom where the public can enjoy a wide variety of beers in a nostalgic environment. In addition to its own beer creations, beers from other friendly breweries are also served at Kuehn Kunz Rosen. As well as the taproom, Kuehn Kunz Rosen also offers brewery tours, beer tastings, brewery days and culinary combinations with meat and cheese. 
Of course it goes without saying that good marketing is one of the most important factors for start-ups in particular. Kuehn Kunz Rosen has also committed itself to this and is offering much more to beer lovers than the events mentioned above. One example of this is the tradition of bock beer tapping that takes place on the 1st Saturday in November every year. Added to this are brewery festivals, Christmas concerts and musical summer evenings which entice guests to the court of Altes Rohrlager.
The right merchandise presentation with packaging and displays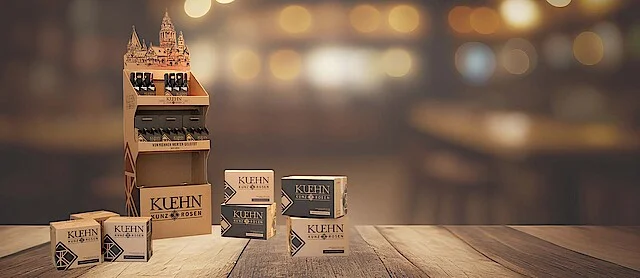 Kuehn Kunz Rosen have a constant portfolio of about 15 different beer varieties, ranging from their main house varieties to their ever changing and seasonal beers. These include classics such as bock beer and Pils but also speciality beers with fruits and spices.
"Our region and our relationship to Mainz has been important to us from the outset and continues to be so today. This is also reflected in our own beer varieties such as Mainzer Pils, Mainzer Dom Bräu or our "Helle Begeisterung" for the fans of FSV Mainz 05.
We needed experts to showcase our products correctly in retail outlets and for e-commerce and we found them at THIMM. Their expertise in packaging and displays and the regional connection is an excellent match for us."
Nils Nahle, Kuehn Ambassador
Floor-standing display for functional product marketing
For a new type of product presentation THIMM developed the packaging and a floor-standing display as a mobile secondary placement at the point-of-sale.
The real eye-catcher of the floor-standing display is the topper which cements the relationship to the Mainz region by replicating the Mainz skyline with an illustration of the best side of Mainz Cathedral, the city's most famous landmark.
The bottles are presented, irrespective of their taste, on all three levels and have a high advertising impact. Whether individually (with 36 bottles per level) or in grab-ready six-packs, it is easy to remove the bottles and assemble them individually as required. This has demonstrable handling benefits not only for the customers of Kuehn Kunz Rosen but also for retailers.
Customer benefits of the floor-standing display for Kuehn Kunz Rosen
Local connection and recognisable emblem of the region
Levels/drinks holders are adapted to the format of the drinks holders (6 six-packs per layer)
Natural and sustainable appearance reflect the company's values
Printed packaging for shipments
Packaging transports products to the desired delivery location and protects merchandise from external influences. Kuehn Kunz Rosen also utilises stable shipping packaging for delivering the bottles intact to the customer.
The transportation packaging comes in two sizes, to accommodate 12 or 24 bottles. The individual bottles are thereby packed in an additional drinks holder which provides additional product protection during transportation.
Further design benefits are the hand-holds on the sides of the packaging, designed for the user-friendly transportation of products from the producer to the end-customer.
The packaging also incorporates specific design features. The unmistakeable Kuehn Kunz Rosen design is reflected on the packaging, displays and drinks holders, thereby generating a high-impact and uniform brand image. The immediate identification of the brands demonstrates the potential of packaging as a brand ambassador.
Customer benefits of printed shipping packaging
Possibility of integrating tamper-proof-locks to protect against unauthorised opening
Customised print images
Possibility of many different design formats
Drinks holders for optimum carry comfort
In addition to packaging and a secondary placement, Kuehn Kunz Rosen also supplies drinks holders for the relaxed transport and carry comfort of the individual bottles.
The six-pack scores highly thanks to its simple folding technique, high level of stability and bold design. Here the drinks holder deliberately reflects the design. One side is black, but when turned over, the simple printing on the brown corrugated cardboard is highlighted.
Designed for transporting six bottles, the drinks holder can be used both in retail outlets and as the perfect companion to leisure activities. The reinforced handle and simple construction of the drinks holder from Kuehn Kunz Rosen also has some other benefits.
Customer benefits of the drinks holder
The handle is reinforced with flaps
Easy fold system
Customised shape and design options
"With a packaging unit, a secondary placement and the drinks holder we were able to create three convincing sales channels for Kuehn Kunz Rosen. From development to creation it was obvious that Kuehn Kunz Rosen is much more than a start-up. The expertise and passion shown by the employees is not only reflected in their relationships with each other, but also in their conduct with their business partners. It was an excellent collaboration for us and hopefully more will come from it."
Marc März, Sales Manager at THIMM
Kuehn Kunz Rosen creates the unique details with love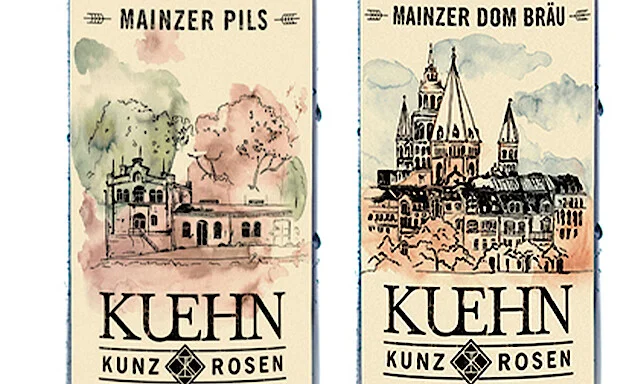 It is the taste that makes the Kuehn Kunz Rosen beer varieties so unique. But just one glance at the lovingly designed labels reveals that so much more goes into it.
Very specific design elements have been developed together with the designer Leonie Flöttmann. For instance the beer variety "Kuehnes Blondes" [Bold Blonde] depicts a strong image of a woman with a matching tattoo of the Kuehn Kunz Rosen logo on her upper arm. "Kerlig Helle" is presented as a modern Kunz von der Rosen with a harlequin in his hand as a tribute to the origin of the name. Appearing in powerful pink, the vivid label for "Mystique IPA" acts as a mystical female aura. The beer mat with the KKR logo in the woman's hands is also used here as a brand identifier.
With Mainzer Pils, the first beer from their own brewery, Kuehn Kunz Rosen used the label to recall a certain image. The sketch of the brewery set against a nature backdrop represents a sense of home and pride in what has already been achieved.
Every single day the Kuehn Kunz Rosen brewery focuses on this slogan: "The country needs bold beers – beyond the everyday and for your own bold moments." … and for the growing success of one of the most creative breweries in Germany.