Sustainable food packaging for gastronomy, food to go, specialist stores or retail outlets is best purchased directly from the manufacturer
We have been producing sustainable packaging since 1949. That's why we are familiar with all the requirements for food packaging and can implement them perfectly in the best solution for you! Our food packaging provides comprehensive product protection while simultaneously displaying your food products. Our packaging is suitable for all types of food – whether warm, greasy, deep-fried, cold, deep-frozen, unprocessed, heat-resistant, hot, microwave-heated or moist. The food packaging is environmentally-friendly, easy to recycle and is an excellent means of sharing information about your brand. We produce packaging for direct and indirect food contact. Buy hygienic, sustainable food packaging now!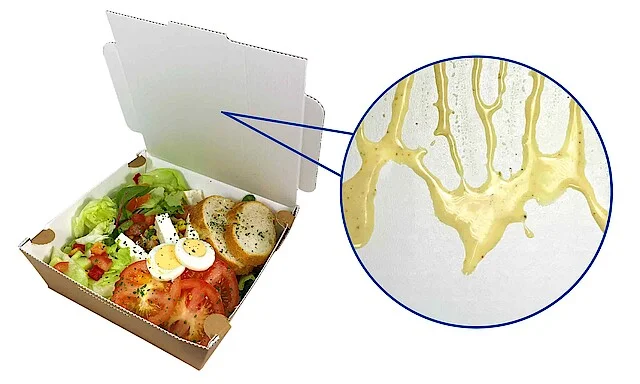 Sustainable paper coating for food packaging
The environmentally friendly and recyclable ComBa® coating can be a substitute for plastic packaging, film coatings and other environmentally harmful materials. ComBa®can also be used as an internal liner in food packaging thanks to its sustainable coating. The packaging, which is made from coated paper, protects watery, oily and greasy food against spillage. After consumption, the packaging can simply be disposed of in waste paper and returned to the recycling loop.
More Information about ComBa®
Food packaging made from sustainable corrugated cardboard
No more anger about unnecessary plastic packaging. Our versatile packaging made from foodWave® provides a welcome environmentally-friendly alternative, which in terms of functionality is by no means inferior to plastic food packaging. Whether for organically grown fruit or conventional food, by switching from plastic to corrugated cardboard, everyone can set an example of sustainability.
The certified food packaging made from foodWave® has been designed for 100% safe direct food contact. foodWave® is our grade of corrugated cardboard used for direct food contact. It is made of 100% fresh fibres and is available in white and brown. Our selected raw materials are from certified sources (FSC®/PEFC). The type of corrugated cardboard used for food packaging is produced under strict hygienic production conditions at our BRC Standard-certified factory and uses environmentally-friendly starch glue. Our foodWave® contains no mineral oils, making it especially food-safe and environmentally-friendly.
When used in combination with our special finish, it is even grease and oil-repellent, making it ideal for food packaging for moist or greasy products. Even when used with our special finish, foodWave® food packaging can be easily recycled. Provided it contains no food residues the packaging can be disposed of with wastepaper. Bakery products such as croissants, sweet pastries and pizza have special packaging needs, because these products release grease and moisture onto the paper of the food packaging. Thanks to its excellent design properties, foodWave® can also be used flexibly for almost all packaging shapes.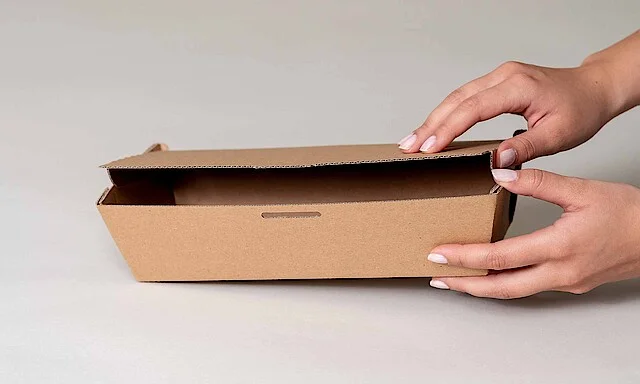 Food packaging for Food to Go
The meal box is also made from foodWave®. THIMM's meal box provides perfect storage for take-away meals and safe transportation – regardless of whether the food is hot or cold. The single-piece meal box with its folding lid is easily closed to protect the food during transport. The sizes of the food packaging can be customised to your products and are used widely. You can transport everything from salads, appetisers, main dishes to desserts. It can be stored in the refrigerator without any problems. The meal box is assembled in just a few simple steps and is immediately ready for use, even without glue. The corrugated cardboard is made 100% from fresh fibre paper and replaces trays made from aluminium or with a PE or silicone coating, which means they are easy to recycle and are environmentally-friendly.
Find out about meal boxes and meal trays here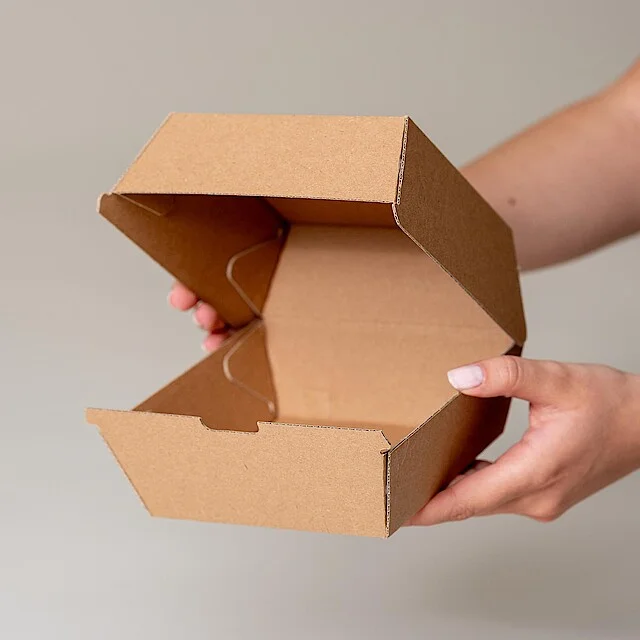 Food packaging for Burger und Co. 
Our burger, snack, noodle and kebab boxes are also made from our foodWave® grade of corrugated cardboard and thus complement our range of food packaging. The different boxes are ideal for take-away meals. From Asian dishes to döner kebabs, curried sausage, hot dogs, sandwiches, burgers, escalopes with fries and many other fast and street food products, our sustainable food packaging can be used to package and transport them. Not only the preparation, but also the packaging of the food, should be quick and easy. These packaging units enable you to package or give your customers the food quickly and easily.
We would also be happy to have your THIMM foodWave®packaging certified by ISEGA, and we will deliver the packaging together with a declaration of conformity.
Find out more about burger packaging here
Are you looking for sustainable packaging for food products?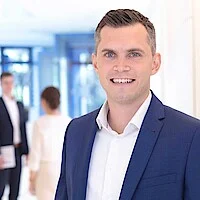 THIMM's food packaging is environmentally-friendly and sustainable. We can produce the food packaging in the different designs and sizes you need for your product. Contact us!
Printed and exclusive food packaging made from cardboard
Using sustainable corrugated cardboard trays in food packaging can reduce or completely replace the consumption of plastic and aluminium packaging. The trays are very versatile in their use, both for direct and indirect food contact. From biscuits, doughnuts, chocolate, cakes, pastries, fruit and vegetables to many other foodstuffs that can be packed in our packaging, they can be designed and used in many different ways. Our fine flute types, E-flute and F-flute, are perfectly suited for these applications and also deliver logistics benefits.  We are able to produce standard cartons, conical cartons, corrugated cardboard trays with carry handles and many other designs for your food. The finish on indirect food packaging is created through the unique possibilities of digital, flexo and offset printing which contribute to presenting an attractive brand presence.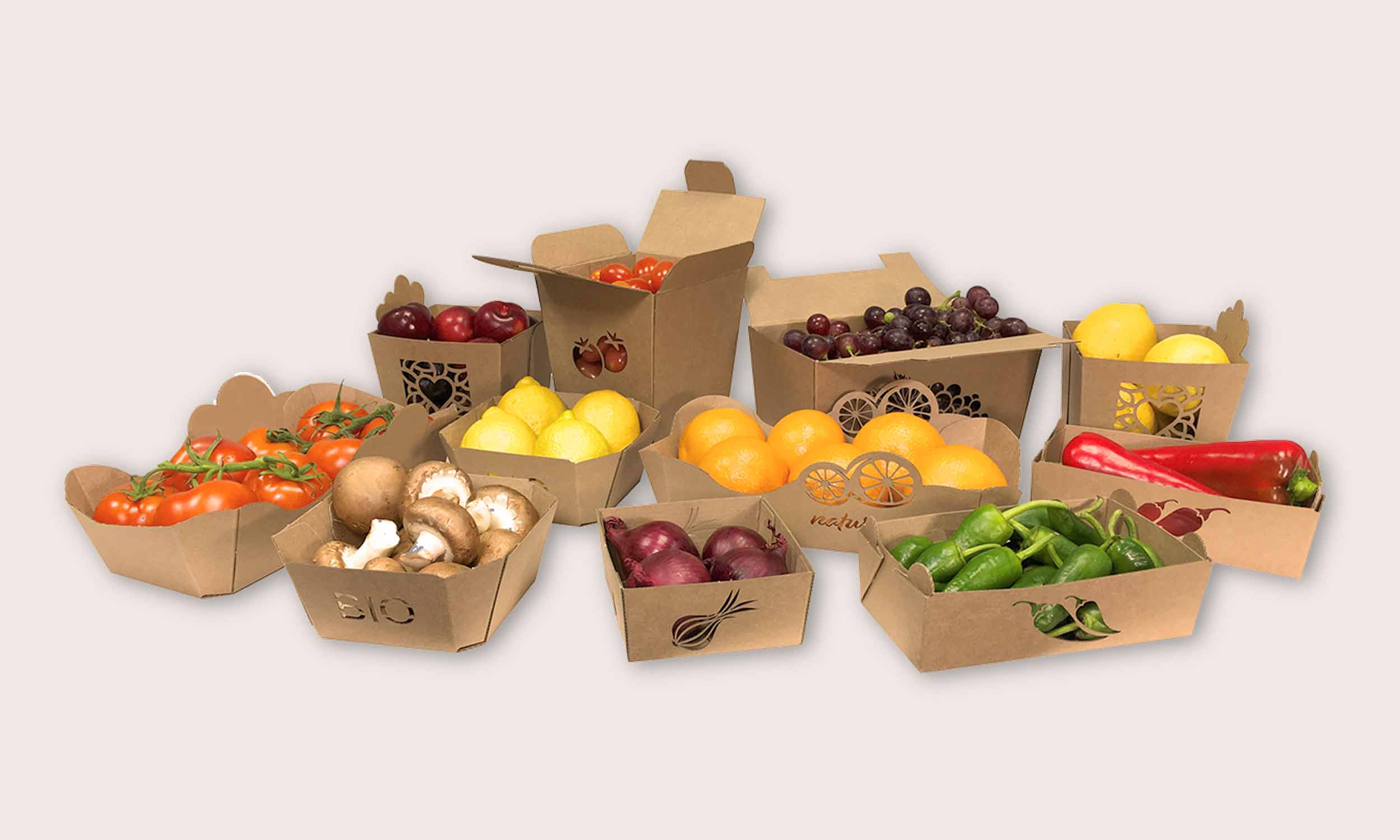 Our laser cutting gives your food packaging a special exclusivity that attracts more attention to your product. With shapes, symbols, delicate die-cut motifs or extravagant forms, you will stand out from the competition and confer a special look on your product at the POS. 
Depending on the design, the corrugated cardboard trays can be pre-assembled and shipped nested. This pre-assembly means they can be used and filled immediately. 
Find out more about digital laser punching here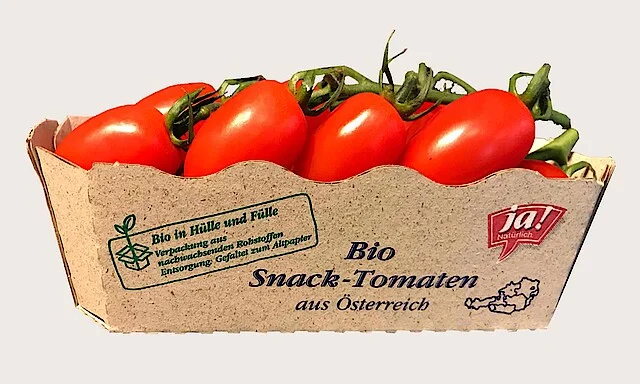 Food packaging for nuts and vegetables
REWE Group Austria uses this sustainable grass corrugated cardboard packaging for organic tomatoes from its own brand Ja!  Natürlich, amongst other products. As the food packaging has been printed in Flexo-High Quality Postprint (HQPP) using water-based inks, the customised design is also easy to implement with virtually no design restrictions. Nuts and vegetables are therefore not only hygienically protected from damage, but are also presented in such a way on the shelf to promote sales. This packaging for fruit and vegetables is also made from 100% corrugated cardboard and is therefore fully recyclable.
Request packaging now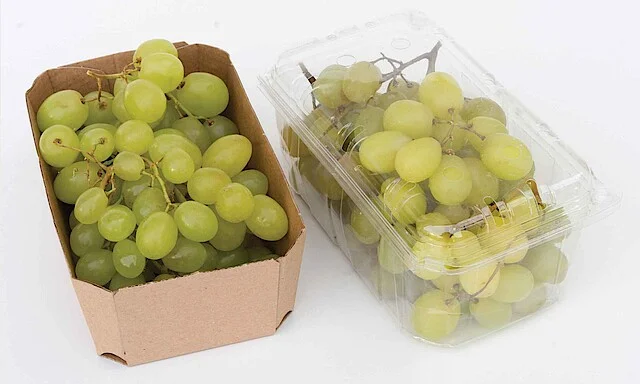 Climate-friendly food packaging: Corrugated cardboard trays for fruit and vegetable packaging
A CO2 footprint analysis by the University of Freiburg shows the climate benefits of corrugated cardboard trays for fruit or vegetables compared to PET trays. Scientists have found that the life cycle of a corrugated cardboard tray generates 0.017 kg CO2 equivalents. The climate effects of a PET tray are more than twice as high with 0.036 kg CO2 equivalents. In each case the measurement considered the entire process from the production of the food packaging to its "end of life".
Corrugated cardboard impresses thanks to its technical climate-friendly credentials, its high recycling rate and its use of renewable natural raw materials. The potential for replacing plastic packaging with recyclable corrugated cardboard packaging is huge!
Further information on the CO2 footprint analysis by the University of Freiburg can be found at the Association of the Corrugated Board Industry (VDW).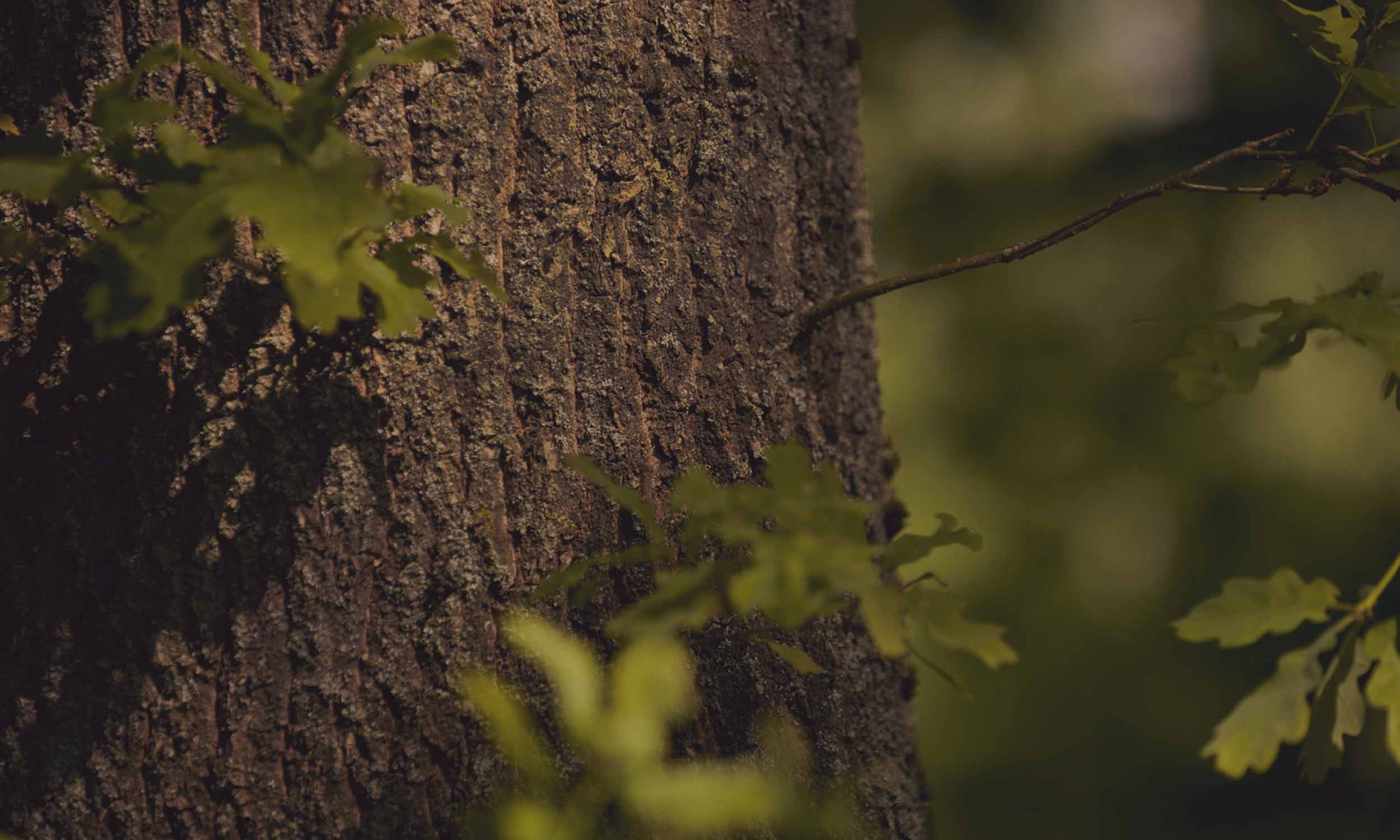 Buy food packaging directly from the manufacturer!
Our sustainable food packaging is perfect for the catering, food-to-go, specialist and retail sectors.
Request sustainable food packaging now
Not found the right one yet?