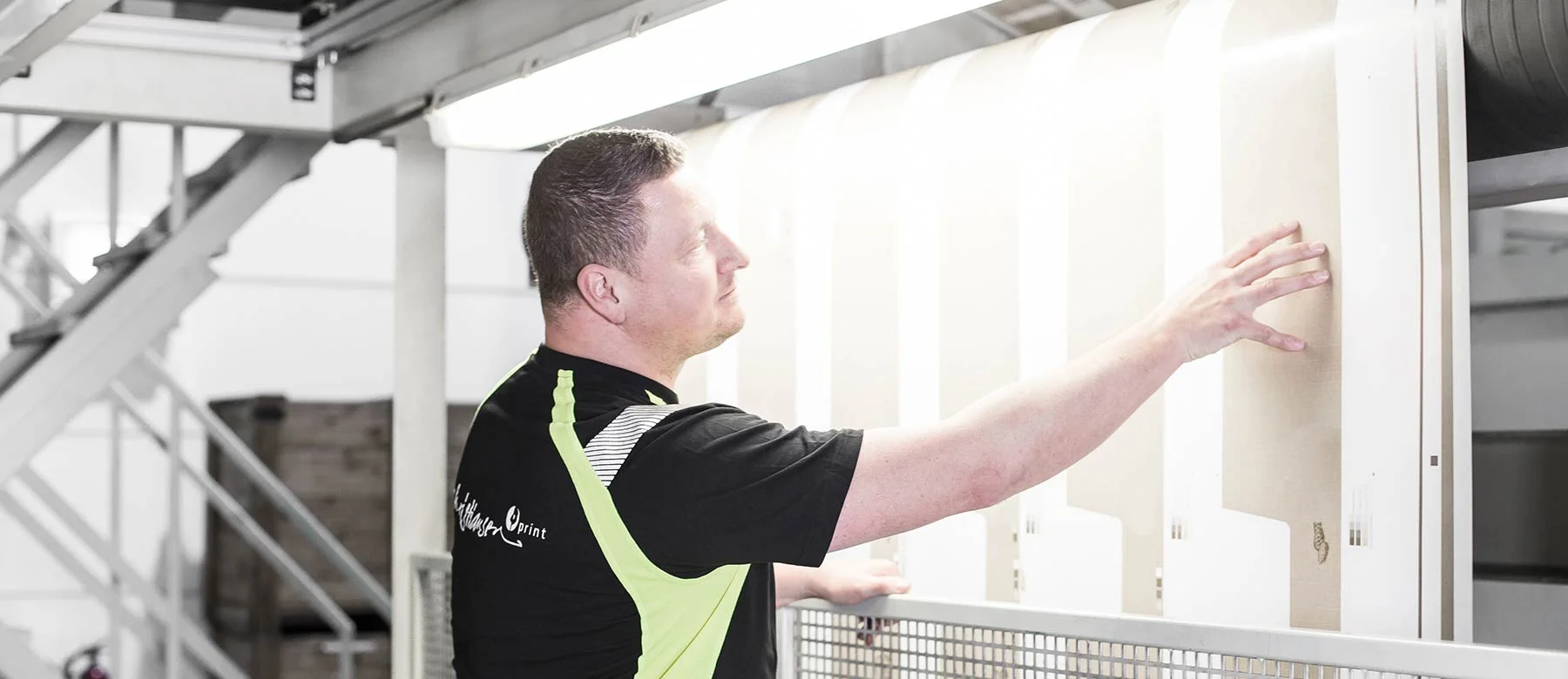 Flexo printing
What is flexo printing?
Flexo printing is a direct high-pressure process in which the colour-bearing and non-colour-bearing surfaces of the flexible print form are at different heights. The raised areas on the printing plates are image-bearing. Flexo printing is a very easy printing process that can be used everywhere and is primarily used for printing on packaging. This means that the widest range of materials for primary and secondary packaging can be printed in very limited or up to extensive print runs. 
A wide range of machine technologies have been developed for flexo printing. In general a differentiation is made between preprint and postprint.
Benefits of flexo printing
A wide range of grammages

The flexo printing process enables printing on papers with grammages from 60 to 250 g/m².

Large and long

With a maximum paper width of 2,500 mm and a length of 4,572 mm, our flexo printing presses have sufficient space for your orders.

Special colours

Finish your paper to a new level with special colours.

Water-based inks

The water-based inks we use enable the use of special colours in addition to the conventional colour selection.

Use of different paper types

Both uncoated and coated standard papers as well as special paper types such as grass papers can be used.

Preprint or postprint – the choice is yours

Whether preprint or postprint (HQPP), flexo printing at THIMM is very versatile.
Two innovative preprint flexo printing technologies
In addition to two of Europe's most modern and largest central cylinder flexo printing systems, we also offer our customers three belt technology flexo printing presses as an alternative. Both technologies have very specific benefits and are therefore used depending on the order type. One special feature of the patented belt technology is that very large print images with a length of up to 4,572 mm can be printed.
Postprint: Printing after corrugated cardboard production
Post print (corrugated cardboard direct printing) is a form of flexo printing which prints directly onto corrugated cardboard.
Flexo-High Quality Postprint (HQPP) is a further technological development of simple direct printing. This is flexo direct printing which is ideally suited for smaller print runs of high-quality printing results and cost-effective production.
Strong coating. ComBa makes packaging safe and secure!
Sustainable barrier coatings for paper ensure your packaging is ready for any application. Whether it's a juicy burger or an oily industrial product, ComBa-coated packaging protects your product and the environment. And the best thing about it: the FSC-certified packaging can be safely recycled after use.
Find out about sustainable paper coatings
High pressure to achieve the best quality
Whether during printing, the corrugated cardboard production or the packaging processing, the quality of your products is ensured at THIMM at all times. For this purpose, we use various measuring methods such as a state-of-the-art camera system in the flexo printing presses. In addition to a wide range of external certificates our most important quality feature is our own employees. They ensure every day that you only receive the highest quality products.
More information on quality management
Would you like more information on flexo printing?
Haven't found the right one yet?