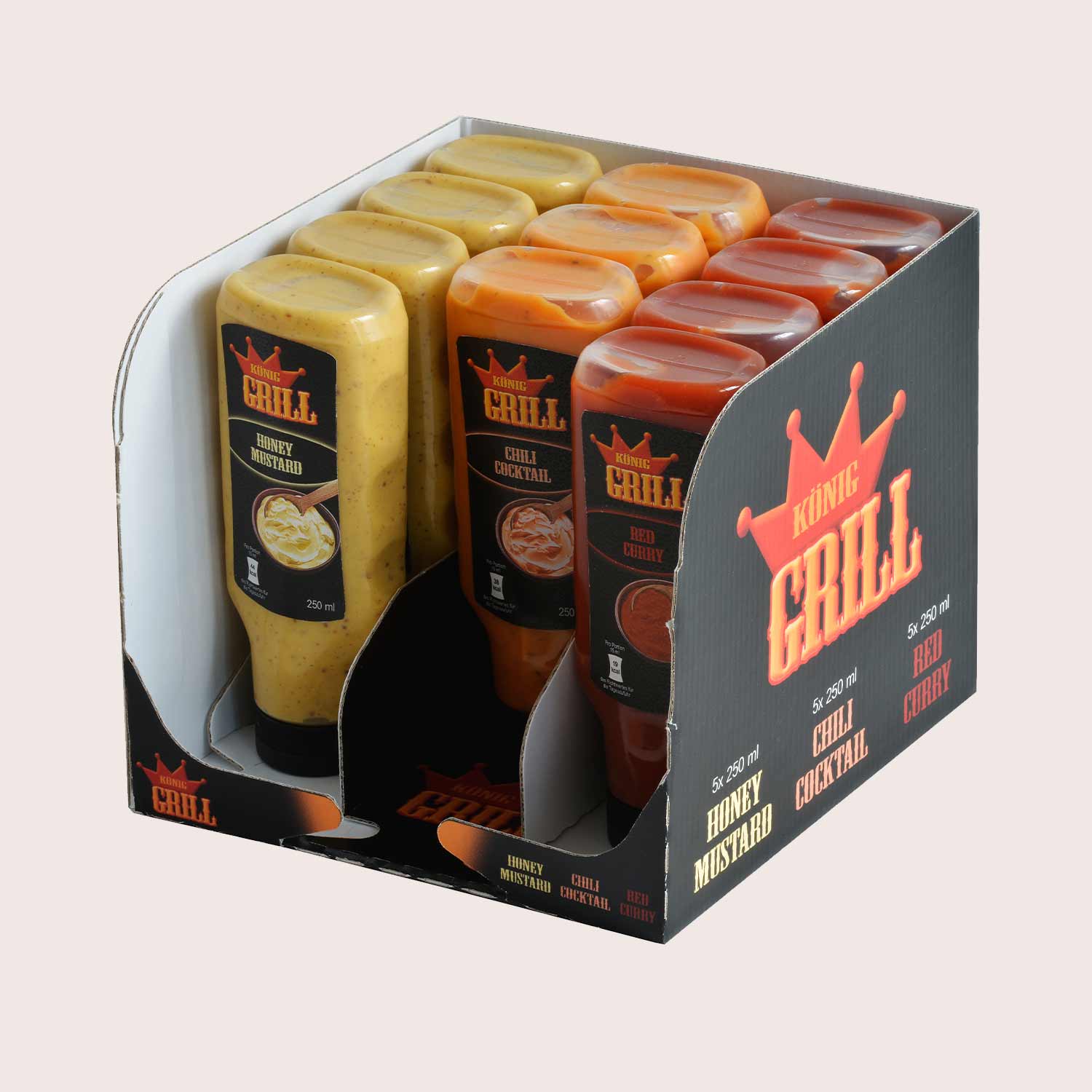 THIMM Quick-Mix-Pack: Time-saving, efficient and customisable
Secure hold and high product protection for your products
The "THIMM Quick-Mix-Pack" assortment pack contains an integrated stay set.
When the one-piece corrugated board blank is erected, the product compartments form automatically. This design of the assortment pack saves valuable time in the packing process. In addition, the assortment packaging is efficient because no additional material is needed for separate compartments. The innovative design of the assortment packaging can be adapted to all common product formats. When printed on one side, the advertising message automatically appears on the inside of the packaging as well. The "THIMM Quick-Mix-Pack" assortment packaging provides a secure hold for your products and creates a high level of product protection during storage and transport thanks to an additional shipping cover.
Your benefits with THIMM Quick-Mix-Pack
Sustainable packaging

Corrugated cardboard consists entirely of renewable raw materials.

Customised design

Our printing technologies open up countless design possibilities for you.

Customised internal printing

Very popular for personalised customer contact or as an advertising space for promotions.

Extremely rigid

Corrugated cardboard packaging is lightweight yet sturdy.

Maximum product visibility

Cut-outs ensure your products have maximum visibility and accessibility.

Save money

Ease of handling saves time and therefore your costs.
Material and handling efficiency
With one-sided packaging printing of your assortment packaging, your advertising is also presented in the inside area
Simplification of the packaging process due to integrated dividers
After removing the transport protection, the result is an assortment pack ready for presentation
Easy storage of the goods in the store
Flexible use for almost all packaging forms
Eye-catching and ready for presentation
Ecological aspects
Reduced material costs and logistics savings compared to comparable assortment packaging, thus reducing C02 emissions
Corrugated board raw materials from certified sources (FSC®/PEFC)
Disposal of the assortment packaging as a single-material solution
Are you looking for the best packaging for your products?
Feel free to contact me!
Jeannine Wegener
New Account Specialist
+49 5551 703 0
hallo@thimm.de