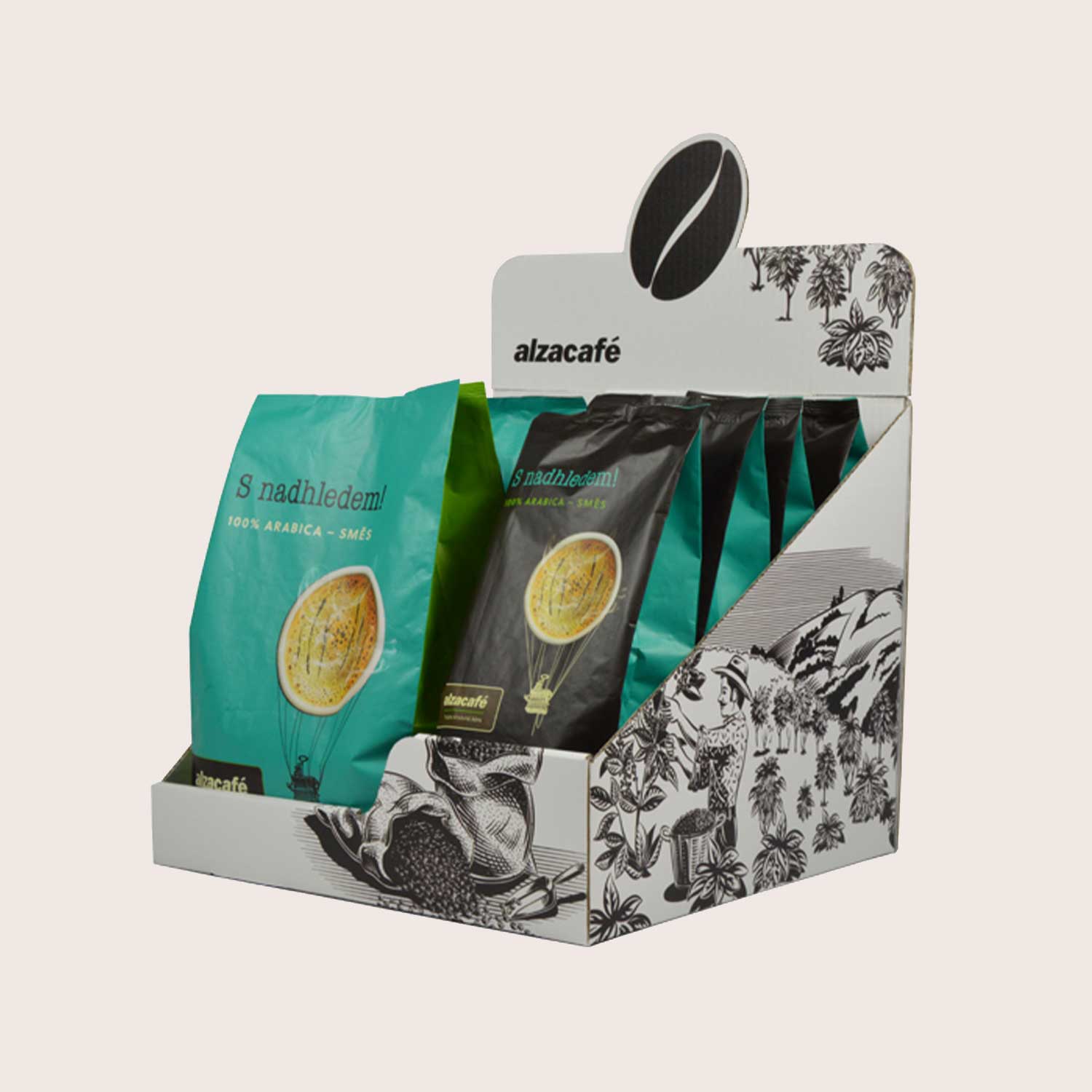 Clever design for diverse product sizes
The intelligent counter display for Alza coffee
In the Alza.cz offer, you will now find not only well-known brands but also lesser-known ones, and even the AlzaCafé own-brand coffee. Originating from South and Central America, Alza coffee is a 100% pure Arabica. It also comes from a Fairtrade programme that guarantees fair treatment for coffee farmers. THIMM has developed a special counter display with digital RETRO printing for this unique coffee edition.
This counter display is made of recyclable three-ply corrugated cardboard and digitally printed to a high standard. THIMM fulfilled the customer's wish - an easily assemblable construction as a counter display that does not need to be glued.
Advantages of the counter display
Sustainable packaging

Corrugated cardboard consists entirely of renewable raw materials.

High-quality digital printing

Our digital printing technology showcases your products and brand to promote sales.

Maximum product visibility

Cut-outs ensure your products have maximum visibility and accessibility.

Easy removal

This design allows for easy removal – important for successful sales.

Sales promotion at the POS

Use the packaging to create additional purchase incentives at the point of sale.

Save money

Ease of handling saves time and therefore your costs.
The uniqueness of the counter display lies in its intelligent construction, thanks to which two different sized packs of Alza coffee, 1000g and 250g, can be placed on the counter display with the help of a corrugated cardboard fixation only. On the front of the counter display, an elegant wavy line hides this ingenious fixation.
The topper of the counter display, whose shape is reminiscent of a coffee bean, can be removed from the counter display and put back on without any effort.
The high-quality pre-print technology and the perfectly prepared retro graphics of the counter display are a guarantee that the desk stand will be an eye-catcher of the point of sale and attract the attention of potential customers.
You want to present products in an eye-catching way?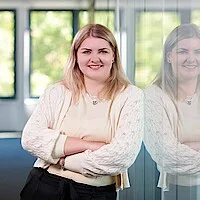 Feel free to contact me!
Sina zum Berge
New Account Specialist
+49 5551 703 0
hallo@thimm.de