Exciting displays for effective product presentation of toys at the point of sale
Efficient variety: Different print motifs through digital printing
The retail displays overwhelm children and their parents at first sight. With bright and rich colours, the retail products are presented in a unique and interesting way. The displays for toys were produced in several print variants for the different products presented and are perfectly suited for product and brand communication. Through the targeted use of digital printing technology, various print motifs could be realised quickly and easily. Thanks to the printed QR codes on the retail displays, the end consumer can obtain additional information about the products and be inspired when buying games.
The two display types perfectly cover different sizes and types of games on display. On four levels, the products are optimally presented thanks to corrugated board fixings. The Retail Displays have an attractive and interesting design on the back, which allows them to be placed anywhere in the shop. The Retail Displays are also characterised by their practicality - they are quickly assembled and can therefore be used directly at the point of sale.
All retail displays are made of corrugated cardboard, a renewable raw material that is easy to recycle and does not harm the environment.
Special design features of the retail displays for toys
100% recyclable

All corrugated cardboard packaging is fully recyclable – an ideal circular product.

Sustainable packaging

Corrugated cardboard consists entirely of renewable raw materials.

High-quality digital printing

Our digital printing technology showcases your products and brand to promote sales.

Maximum product visibility

Cut-outs ensure your products have maximum visibility and accessibility.

Sales promotion at the POS

Use the packaging to create additional purchase incentives at the point of sale.

Sales promotion displays

Create additional purchase incentives at the point of sale with secondary placements.
Would you like to increase the sales of your products?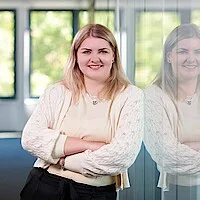 Feel free to contact me!
Sina zum Berge
New Account Specialist
+49 5551 703 0
hallo@thimm.de