THIMM packaging wins WorldStar Packaging Award 2022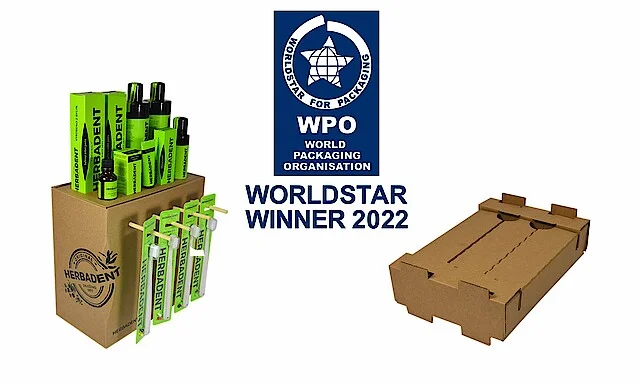 Practical and sustainable counter display and eco-fix for bottles convinced the jury of the World Packaging Organization and won the WorldStar Packaging Award 2021.
WorldStar Packaging Award is an international prestigious award with a tradition of more than fifty years. Only those packaging and displays that have previously succeeded in packaging competitions at the national level – for example in the Czech Republic Packaging of the Year competition – can receive awards in this renowned competition. The winning packages from national competitions from around the world are compared by an expert jury based on a variety of criteria, such as sustainability, product protection, creativity and innovation.
The winning packages, including two packaging solutions by THIMM, were unveiled on 15thDecember 2021. Eco-fix for bottles, which is a more sustainable alternative to polystyrene fixations, received an award in the category Packaging materials and components. The jury was also convinced by the Practical and sustainable counter display for dental hygiene products, which was awarded in the category Point of Sale.
The award ceremony will take place in May 2022 at the IPACK-IMA fair in Milan.