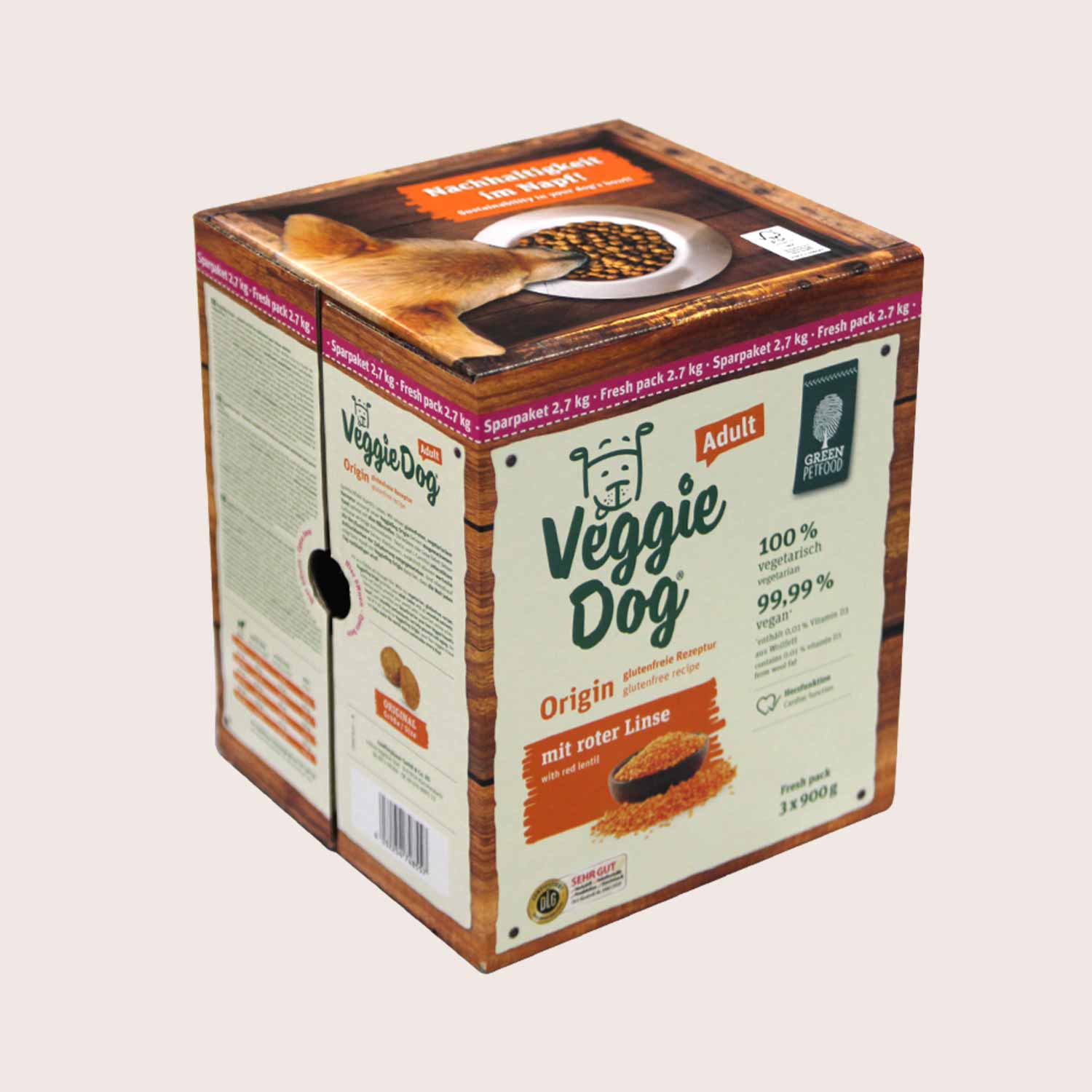 Company:

Green Petfood

Sector:

Pet supplies

Type of packaging :

Product packaging

Product:

Dog food
Digitally printed dog food packaging with strong product staging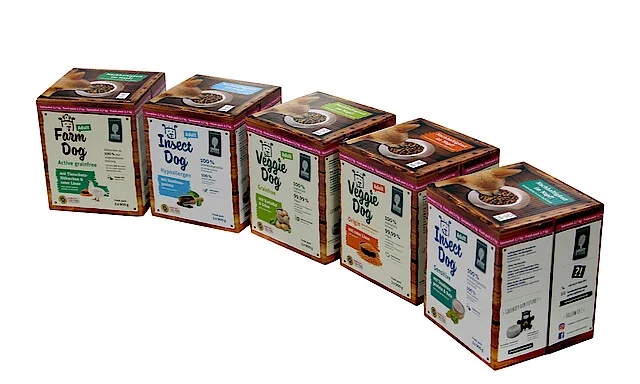 THIMM has developed attention-getting dog food packaging of corrugated cardboard for Green Petfood. Thanks to the most modern printing technology, the dog food packaging can be flexibly and individually printed for series products. Thanks to the versatile design possibilites, the dog food packaging becomes an eyecatcher on the shelves and attracts the attention of the target group. Thanks to its compact design, the digitally printed dog food packaging unites simple consumer-friendly handling.
Exclusivity, from the packaging to the product
Thanks to its design, the dog food packaging of corrugated cardboard protects the contents for your best four-legged friend and is very consumer-friendly in terms of handling. Whether vegetarian dog food with red lentils, or of course with delicious chicken, there is something for every taste! As a worldwide innovation, the assortment also includes hypoallergenic dog food on the basis of insect protein.
All Green Petfood products are selected and manufactured taking aspects of sustainability into account. Green Petfood consciously dispenses with the addition of wheat and soya. Dyes-, aromas- and preservatives are also avoided. The goal is to offer dogs a high level of product quality with the dog food from Green Petfood. Green Petfood sells the exclusive, digitally printed dog food packaging under the umbrella brand foodforplanet.
Sustainable dog food packaging of corrugated cardboard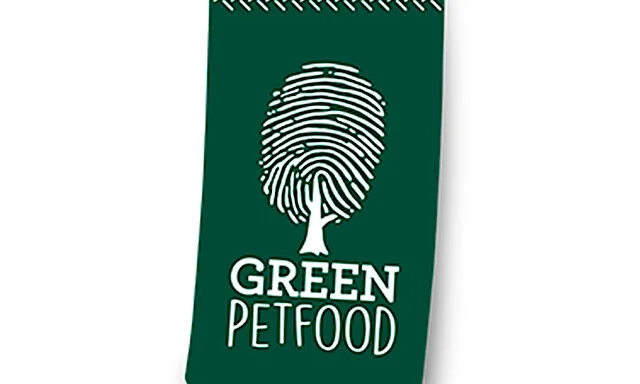 Sustainability, not only in the bowl! Exceptional recipes in connection with innovation and sustainability – that's Green Petfood! The Super Premium-dog food assortment provides the appropriate options for dogs and owners with an ecological consciousness.
As an innovative provider of dog food, Green Petfood offers sustainable dog food, adapted to the various needs of pets. Green Petfood and THIMM have jointly developed attention-getting and effective sales packaging for dog food.
Thanks to the most modern printing technology, the dog food packaging can be printed with various designs in first class printing quality. The attractive and individual design of the product series contributes to promoting sales. The digitally-printed dog food packaging of Green Petfood has big advertising and communications surfaces, which can be designed with a range of target group-specific background images and motifs.- This means that the digitally printed dog food packaging has an important role to play in high-impact product placement and customer enthusiasm at the POS.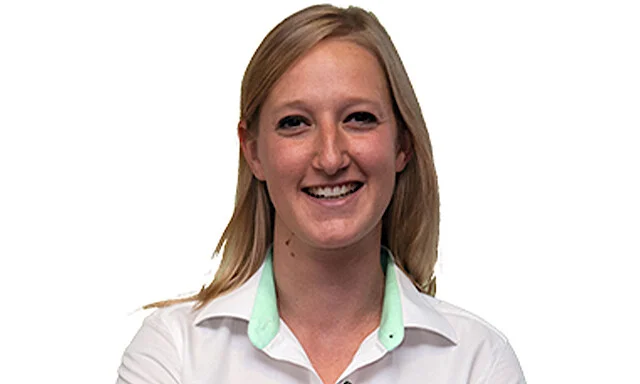 In THIMM, Green Petfood has found a partner for the development of environmentally-friendly dog food packaging with effective advertising qualities. Nina Rimbach, Head of Marketing at Green Petfood has this to say about the cooperation:
"As Green Petfood, we are committed to putting the theme of animal nutrition to the test. It is our ambition to rethink and sustainably manufacture food, and to completely supply animals. It is therefore no contradiction for us to produce products in the Super Premium segment and to always keep the environment in mind, and we also realise this consistently in our packaging. The digital printing process convinced us. With it, we have the possibility, to quickly react to the changing needs of our customers, but also to those of the trade, and most importantly in a way that preserves resources. We have seldom so quickly developed such harmonious packaging, and this is entirely in keeping with our philosophy: Sustainable, innovative and out of the ordinary!"
Dog food packaging with effective brand presentation
Dog food packaging of corrugated cardboard convinces with top class digital printing quality
Attention-getting dog food packaging offers communication areas and individual possibilities for design
High quality printed images on the dog food packaging mean effective brand presentation
Photorealistic illustrations of dogs emotionalise the dog food packaging of corrugated cardboard
Exclusivity of the dog food packaging through serialisation
Full flexibility and economic efficiency for product launches and test runs in digital printing
Simple recycling of the dog food packaging of sustainable corrugated cardboard
Design with punched finger openings enables easy opening of the dog food packaging
Are you looking for the best packaging for your products?