Digitally printed display pedestals for the retail trade
Individual and varied designs through the digital PrePrint
Get a quote now!
Whether winter or summer, retail displays present new, seasonal or limited products at any time of year. Use the modular concept of digitally printed corrugated display bases and vary the display design with the help of digital pre-print. Make your display bases more individual, more appealing and more flexible for your customer approach!
The Mangaroca Batida beverage brand shows how special editions can be presented in an eye-catching way at the point of sale. The delicious liqueur creations are placed in the retail trade both on the shelf and on standardised display bases with appealing designs. The different variants of the print images are printed using the digital printing process, so that each liqueur variety of the Mangaroca Batida brand is differentiated in the market through the design of the display base. Due to the uniform size of the display bases, all print image variants can be produced together in digital printing. For the Mangaroca Batida brand, this is an advantage for placing limited editions and seasonal products in the markets.
Customised construction

Our developers have designed the packaging to meet individual requirements.

High-quality digital printing

Our digital printing technology showcases your products and brand to promote sales.

Sales promotion displays

Create additional purchase incentives at the point of sale with secondary placements.
Special design features of the digitally printed display base
One piece production

The digitally printed display base consists of a corrugated board blank and can be assembled quickly and easily.

Flat delivery

The one-piece production enables a flat and space-saving delivery. The display pedestals are erected on the Chep pallet in the store and slipped over it.

Fast availability and best placement in the market

The drinks are permanently visible through the display base. The open construction and the stacked goods allow customers to quickly decide and take out the drinks as they pass by.

Custom printing

Thanks to the digital pre-print, different print images for campaigns such as the Mangaroca Batida de Côco Mango Kiss liqueur can be easily and flexibly implemented on the digitally printed display base.
Advantages of digitally printed display bases
Control customer appeal: Depending on the bottle design of the beverage varieties, the artwork of the display pedestals can also vary and create a collective image.
Costs and benefits: Joint production of all digitally printed display bases via a multi-job reel enables cost savings in pre-press and finishing. Smaller quantities can thus also be equipped with individual display bases at low cost.
Further fields of application for digitally printed display pedestals
The implementation of digitally printed display bases is possible in every industry. Standardised displays, as well as shipping packaging, corrugated cardboard inserts and many other formats can be differentiated through artwork in digital printing. Take advantage of the possibility of standardisation now and still differentiate your products with individual designs!
Do you have questions about the digitally printed display base for retail?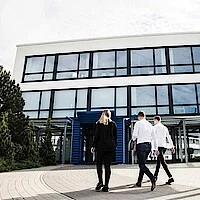 Please feel free to contact me:
Sina zum Berge
New Account Specialist
+49 5551 703 0
hallo@thimm.de