Sanella display from THIMM wins the WorldStar Packaging Award 2019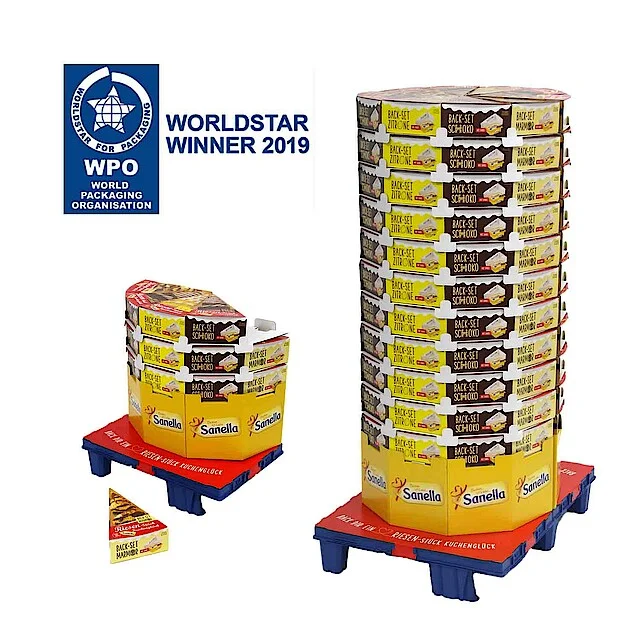 The Sanella Display convinced the jury of the World Packaging Organisation (WPO) with the holistic display- and packaging concept and wins the WorldStar Packaging Award 2019.
The WorldStar Packaging Award is an international award. Only packages and displays can be honoured that have already won an award in a national competition (Innovationspreis Wellpappe, Obal Roku, Deutscher Verpackungspreis, Display Superstar, iF Design Award). The winners, who are therefore considered "the best of the best", are evaluated by the respective jury based on the criteria of purpose, innovation and graphic design.
All winners of the WorldStar Packaging Award were acknowledged in the context of the award ceremony on 15 May 2019 in Prague, Czech Republic. Including the Sanella display from THIMM. The prizewinning Sanella display has already won the Deutscher Verpackungspreis (DVI) and has thus qualified for and won the WorldStar Packaging Award. The holistic display- and packaging concept was developed for the promotion of the Sanella baking-set "Riesen-Stück Kuchenglück" (Gigantic piece of cake happiness). The high-impact sales packages are arranged as a piece of cake on the Sanella display and combine all ingredients, including a corrugated cardboard- cake pan in a set At the POS, the shape and the added value of the corrugated cardboard packaging are as unique as the Sanella baking -set.
Do you have questions about the Sanella display?