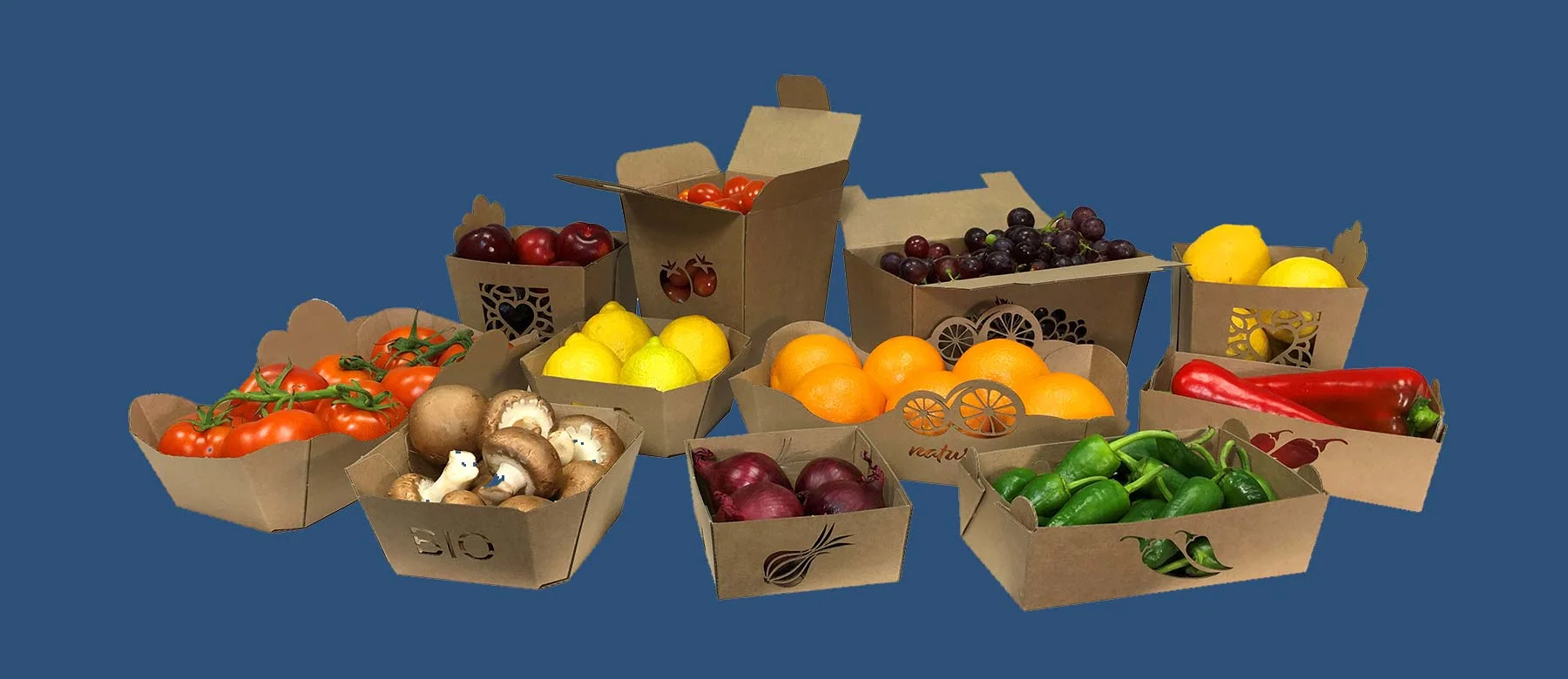 Sustainable food boxes for catering and wholesale
Protecting food has been a concern for people for more than 10,000 years. While it was pure instinct in the early days, today's motivations are significantly more varied and demanding – and the requirements are much more complex. High standards in terms of hygiene, environmental friendliness and the source of materials are now a matter of course. Purchase sustainable food boxes made from corrugated cardboard directly from the manufacturer:
THIMM has been producing sustainable packaging made from corrugated cardboard since 1949 and has always accompanied the changing catalogue of packaging requirements for direct and indirect contact with foodstuffs and converted them into safe quality packaging. The objective: To always develop the best solution then implement and use it for the customers. The food boxes from THIMM offer comprehensive product protection and are suitable for all types of food – whether warm, greasy, deep-fried, cold, deep-frozen, unprocessed, heat-resistant, hot, microwave-heated or moist. The food boxes are environmentally friendly, easy to recycle and are also suitable as excellent information carriers for brand and product communication. 
Food boxes made from corrugated cardboard as a flexible all-rounder
The heart of the THIMM product portfolio is corrugated cardboard – it is both a basic material and the product. Corrugated cardboard is fully recyclable. The paper used by THIMM for food boxes consists of 100 percent fresh fibres, which are certified at least in accordance with the Controlled Wood or FSC© standard. Three quarters of the paper comes from Germany. THIMM procures the rest from Scandinavia as well as Southern and Eastern Europe. In contrast to standard solutions from the Far East, which are often found on the market, corrugated cardboard food boxes by THIMM offer numerous individual advantages and design options in addi-tion to the key factors such as environmental friendliness and climate neutrality. 
The type of corrugated cardboard specially developed and certified for food boxes at THIMM is called foodWave®. This is produced under strict hygienic production conditions in plants certi-fied according to the BRC standard. A bio-based coating on the food boxes makes it possible to also use the boxes for moist or greasy products. Thanks to the particularly good design properties of the food boxes, almost all packaging shapes can be implemented and flexibly adapted to the field of application. foodWave® contains no mineral oils and is therefore particularly environmentally friendly and food-safe. As a pioneer in the industry, with the food boxes THIMM has developed a completely recyclable, sustainable and health-safe alternative to packaging made from plastic or aluminium. 
There are currently three different types of food boxes in the THIMM portfolio, each of which is tailored and oriented to the specific practical requirements of various food sectors:
Food boxes made of foodWave® with uncoated papers: The "most natural" food-Wave® variant is used in direct food contact and is particularly suitable, for example, as a food box for transporting or storing most fruits and vegetables, for pizza boxes, serving trays from self-service counters and simple take-away food boxes. 
Food boxes made of foodWave® with coated papers: The lightly coated version of the food box is particularly suitable for deep-frozen products, from fish or meat to frozen pizza. In this case, a special coating of organic wax provides the necessary moisture barrier, which is also oil and fat-repellent.
Food boxes made of foodWave® with heat-resistant papers: This particularly durable and silicone-free foodWave® design also appears under its own brand name. Thanks to its special coating, the food boxes made of "foodWave® | heatproof" are ex-tremely heat-resistant and suitable for use in the oven or microwave. This makes it a certified type of corrugated cardboard that can be used in a wide variety of applications. This is demonstrated, for example, with the baking tray from THIMM, a seamless and fat-tight construction that is ideal for oven-fresh dishes such as "Leberkäse," meatloaf, cakes or bread. This food box is suitable for warming up, crisping and baking. 
The goal is climate neutrality of food boxes 
THIMM fundamentally develops sustainable packaging solutions that are continuously optimised in terms of resource protection and material consumption. Every source of CO2is checked and the technical know-how in this area is constantly being expanded. It is not yet possible to achieve complete elimination of CO2 emissions, which is why "climate neutrality" doesn't yet mean zero emissions – even if this needs to be the goal in the long term. Currently, business and science understand "climate-neutral action" to mean the targeted effort to balance (compensation) in order to move the thinking and action of all parties involved towards climate protection and environmental awareness as well as to take increasing steps in this direction. THIMM, in cooperation with ClimatePartner, therefore offers a wide range of options to offset unavoidable CO2 emissions in the production of food boxes by investing in climate pro-tection projects. On this basis and in cooperation with partners and customers, more and more climate-neutral packaging solutions are being developed at THIMM. The goal remains firmly in sight: The more CO2 can be prevented or reduced in advance, the less CO2 must be compensated for later.
Laser cutting and individual design options for food boxes
We eat with our eyes too – this fact is repeatedly proven. An attractive design is therefore still an important soft skill in modern boxes, even in the food retail sector. The more individual, the more successful. Here too, it pays off that THIMM is always at least one step ahead in terms of technology: Digital laser cutting opens up entirely new creative possibilities for food box designers. Lasers can cut designs out of corrugated cardboard that could previously only be produced with difficulty, or not at all. In this way, food boxes are given a special exclusivity and attract attention. Contours, symbols, filigree die-cut motifs or extravagant shapes make it pos-sible to implement individual corporate identity elements in an attractive way and thus give food boxes a particularly striking position in the competitive environment and at the POS.