Outstanding Employer: THIMM is awarded the TOPAS certificate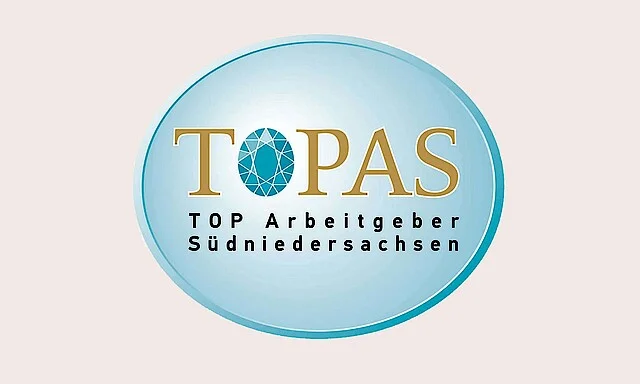 THIMM has been certified with the TOPAS-Label as a "Top Employer in South Lower-Saxony". This documents the fact that the family business based in Northeim pays close attention to the needs of its employees. The certification was awarded by the SüdniedersachsenStiftung (South Lower Saxony Foundation).
Following the successful qualification, with immediate effect THIMM can now describe itself as a "Top Employer in South Lower-Saxony" (or TOPAS) which also showcases its quality as an employer externally. In a ceremony held yesterday in the Holbornsches Haus in Göttingen, THIMM and 24 other companies from the region were awarded their TOPAS certificates yesterday by the SüdniedersachenStiftung. 
THIMM started the outstanding employer qualification process with the SüdniedersachenStiftung in January 2019. Authorisation to display the coveted TOPAS label requires individual objectives to be developed over a one year period in workshops and seminars which must be implemented in the company during this period. The main focal points here were employee loyalty and integration along with recruitment. Information on current trends was also provided and effective strategies for employer marketing were developed.
The audit was performed in January 2020 by the SüdniedersachsenStiftung and the Göttingen Chamber of Industry and Commerce. The outstanding employer certificate is valid for two years and then companies have the opportunity to request a recertification. 
What does the certificate mean for THIMM?
Acclaimed by the SüdniedersachsenStiftung as top employers are those companies who pay close attention to the needs of their employees and constantly work towards optimising working conditions. In many sectors workers can now select their own employer. Medium-sized companies should be able to hold their own in the competition for the best and brightest. This is why the SüdniedersachsenStiftung created the "Top Employer in South Lower-Saxony" initiative in which companies have the opportunity to be certified as top employers to appear attractive employers. 
Do you have any questions?