Apprentices found fictitious start-up company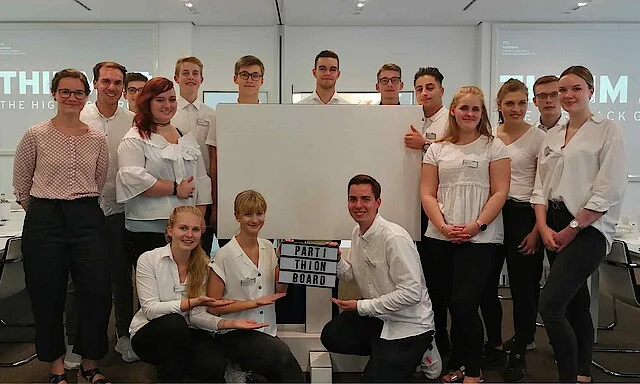 At THIMM in Northeim, twelve technical and commercial trainees started their careers on August 1st. Together they founded a fictitious start-up and developed an innovative product including a business plan.
The training at THIMM starts with the onboarding phase, a three-week introductory phase in which the trainees get to know the company, departments and contact persons and found their own company, a fictitious start-up. The focus here is on young professionals learning how to take on responsibility, get to know processes and systems, and prove themselves in project management. 
The fictitious start-up of the trainees is called " 2Office19 ". The business idea is a portable screen made of corrugated cardboard, the "PartiTHion Board", which can be used both as a projection screen for beamer presentations and as a green screen background. With Velcro, a white or green cover can be stretched over the corrugated board surface, depending on the use. "The special thing besides the double use of the screen is that it is very easy to assemble and therefore easy to transport," says Sandra Schuster, a trainee industrial clerk. Our product is aimed, for example, at business people who are on the road for business and give presentations. In addition, our PartiTHion board offers also hobby filmmakers an increase in value, since the board can be used not only for the video production as background, but becomes in the twinkling of an eye the screen on which one can regard videos. 
The twelve-member team developed a business plan for their start-up company and then presented their vocational school teachers, colleagues and managers how the young company could function in real life. The challenge was to convince the audience of the business idea. After the preparation in the onboarding phase, professional life now begins in the respective specialist departments. There they are trained as packaging technologists, industrial clerks and IT specialists.
The application phase for 2020 is already in progress: Also for the coming year THIMM is looking for new applicants for the professions at its locations: Industrial mechanic, electronics technician, machine and plant operator and media technologist for printing. In addition to challenging tasks, future trainees can expect a lot of personal responsibility. "We attach great value to the fact that our trainees play an active role in shaping their training and assume responsibility. It shouldn't be boring," reports Doris Roddewig, head of training. This becomes already evident with the application: We decided to replace the classical attitude test, which took place after online application. Already last year an invitation to a video application followed instead. What counts for us is the personality and we can also do justice to applicants who, for example, are abroad, do not have a driving licence or are poorly mobile due to village environments. The short video is followed by an interview for further personal contact or a practice day. The applicant can then get a picture of us just as we can. In the ideal case the applicant holds his training contract in his hands before Christmas".
I look forward to receiving your application