Cardboard boxes
Buy customised cardboard boxes from the manufacturer
Find out more about customised cardboard boxes in their many variants here:
printed and unprinted cardboard boxes, cardboard boxes made from brown or white corrugated, cardboard boxes with cushioning foam or lids, and much more. THIMM has been producing cardboard boxes since 1949 and is your solution provider for the packaging and distribution of goods.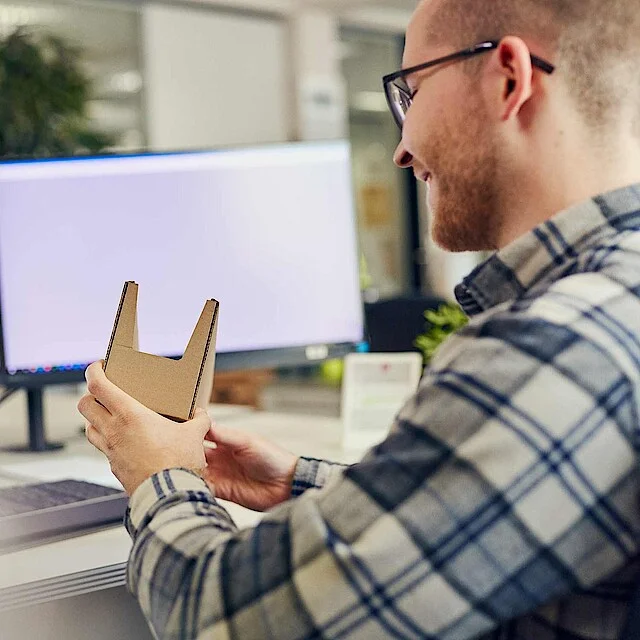 Customised cardboard boxes
As a manufacturer we can develop, design and produce cardboard boxes to your specifications. To create your ideal customised cardboard box, as a manufacturer we need some information. This mainly relates to your product. Do you want to pack food products or tyres, jewellery or bottles, cosmetics or mobile phones? We determine the appropriate dimensions for the cardboard boxes based on your products which avoids leaving a lot of empty space in your cardboard boxes. In technical terms, we refer to an optimised volume utilisation rate of the cardboard box. As a result, you save on the purchase price. If you pack a lot of air next to your product, manufacturers need more corrugated cardboard and you need more filling materials (such as bubble wrap). This is of course reflected in the costs of your cardboard boxes, but also in your storage and shipping costs. Inexpensive customised cardboard boxes therefore depend on your products. Speak to our cardboard box experts or send us your enquiry, with no obligation.
Sustainable corrugated cardboard boxes
Corrugated cardboard boxes are produced from renewable raw materials and can be easily recycled. This makes corrugated cardboard boxes an environmentally friendly and sustainable packaging solution when compared to other materials such as films, foams or other plastics. Today, many companies make a conscious decision to use boxes made from corrugated cardboard, as it is easy for the end user to dispose of. Sustainability continues to be a trend and it repeatedly underpins consumers' purchasing decisions. Take advantage of this and at the same time make your contribution to a sustainable circular economy for our environment.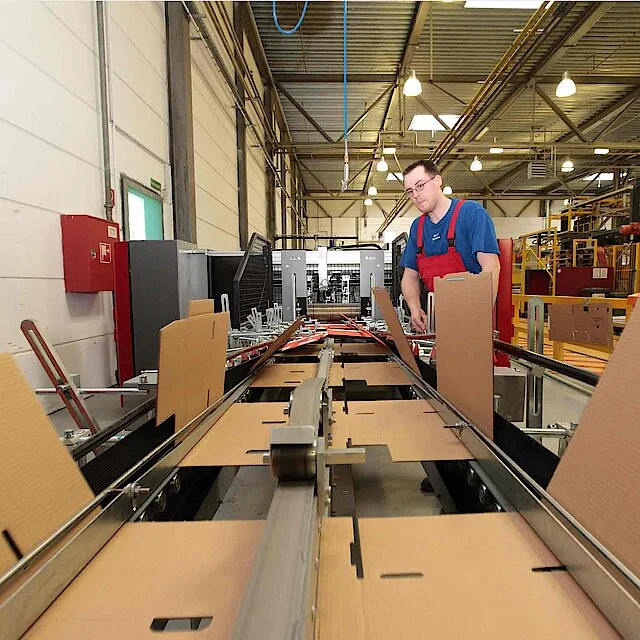 Cardboard boxes from the manufacturer
Buy cardboard directly from the manufacturer in Germany and benefit from outstanding quality at a fair price. THIMM has been producing boxes made from corrugated cardboard since 1949 and is therefore your experienced supplier for the packaging and distribution of goods.
As we a manufacturer of cardboard boxes we have many developers working with us who can always design the optimum cardboard box for you. This design is always based on your particular items. We can produce cardboard boxes in all common material qualities on our machines. Here, too, it depends on your specific product: For example, a cardboard box used to ship heavy car tyres requires a different specification to a cardboard box for shipping cosmetics or jewellery.
As a manufacturer of cardboard boxes, we know all the requirements of your industry and your customers. Use our expertise for your success! Feel free to find out about our sites and our corrugated cardboard production. We look forward to your enquiry.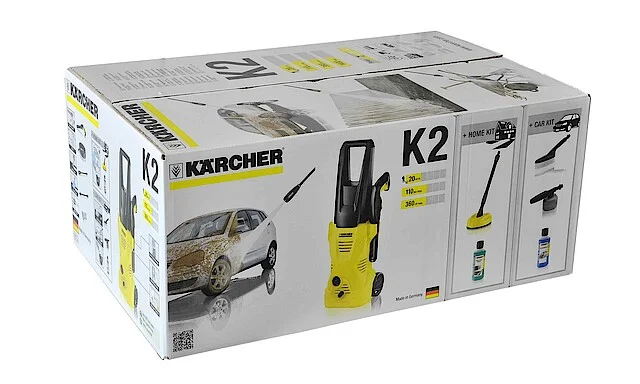 Printed cardboard boxes
Would you like to print a logo on your cardboard boxes? Or refer to the contents of your cardboard boxes with your company name, barcode and product information? Or communicate your brand? Printing on cardboard boxes is now possible in almost unimaginable variations.

Cardboard box manufacturers distinguish here between preprint and postprint. Preprint means that paper is printed which is then used to produce the corrugated cardboard and your cardboard boxes. Postprint is when the finished corrugated cardboard is printed.

We recommend the best printing method for your cardboard boxes in a simple and straightforward manner. Get in touch with us to find out more about today's opportunities with no obligation. You'll be surprised...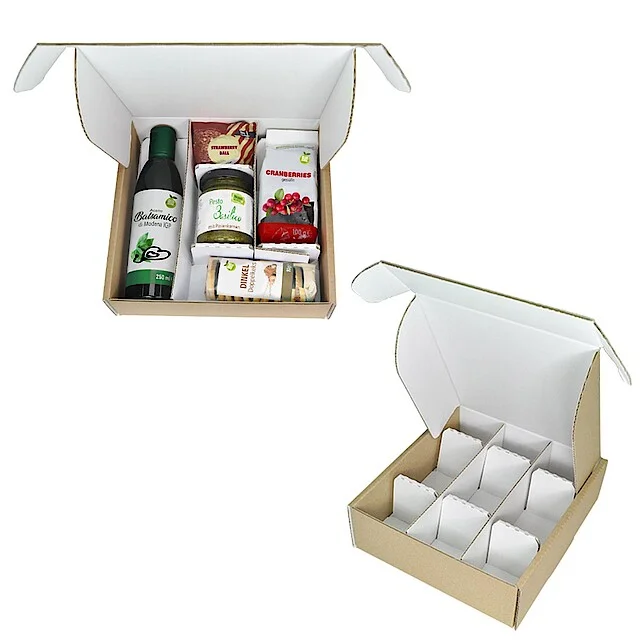 Cardboard boxes with dividers
Do you want to ship different product types in one box? That's no problem! With a flexible divider in the box, you can pack and ship products in many different ways: glass jars, tubes, bags, sachets, cans, bottles, pots, cups and much more can all be placed safely in one cardboard box. The divider is flexible so it can be adapted to your needs. It fixes different the product sizes and product shapes inside the boxes. It is also very easy to customise it as it enables products to be arranged in any way at all inside the cardboard box.

When shipping identical products in the cardboard box, for example a glass set of 10 glasses, we recommend a corrugated cardboard divider insert to create product compartments of the same size. The divider ensures maximum protection and optimal placement in the cardboard box. This results in good volume utilisation.
Standard cardboard boxes in the online shop
Where can I find cheap standard cardboard boxes? In our online shop at www.cartonara.de we offer many standard boxes from stock. Standardised boxes are often used for transporting and shipping products. Cardboard boxes are classified according to FEFCO or the FEFCO-ESBO code. This is an international standard for boxes. For example, a cardboard box according to FEFCO 0201 is equipped with closing flaps.
As standard cardboard boxes are generally unprinted, they are cheaper than cardboard boxes with customised printing. We offer neutral cardboard boxes made from brown or white corrugated cardboard. Cardboard boxes are already available online in dimensions from 150 mm up to 600 mm in length. Visit our CARTONARA shop for an overview of the cardboard boxes in stock. You will also find information there about our current campaigns and offers. If you have any questions about FEFCO packaging, please call our packaging experts or send us an email, with no obligation.
Are you looking for customised cardboard boxes? With/without lid? For sealing without adhesive tape or other aids?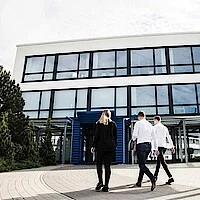 Our employees will be happy to provide you with these options and much more information about cardboard and cardboard boxes. Talk to us!
THIMM Verpackung GmbH + Co. KG
+49 5551 703 0
hallo@thimm.de