Corrugated board display base
Individually printed for more sales promotion at the POS
Get a quote now!
Innovative display pedestal: customer-oriented solutions for the trade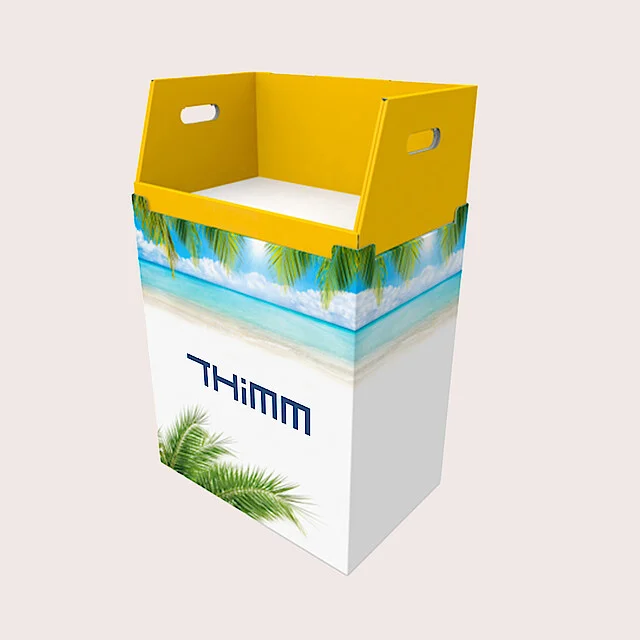 Increasing sales through smart display strategies
One-piece, customer-oriented, timeless
With the corrugated board display base, THIMM offers a standardised display solution for the retail trade. The base can be extended with appropriate trays (levels) as required and depending on the number of products to be displayed. A standard solution for product diversity.
Use the latest printing technologies such as digital printing to stimulate consumer purchases and increase sales.
100% recyclable

All corrugated cardboard packaging is fully recyclable – an ideal circular product.

High-quality digital printing

Our digital printing technology showcases your products and brand to promote sales.

Flexible designs

In digital printing your print image can be modified flexibly if required.

Extremely rigid

Corrugated cardboard packaging is lightweight yet sturdy.

Consulting

Receive a personal consultation – we will find your best packaging.

Sales promotion displays

Create additional purchase incentives at the point of sale with secondary placements.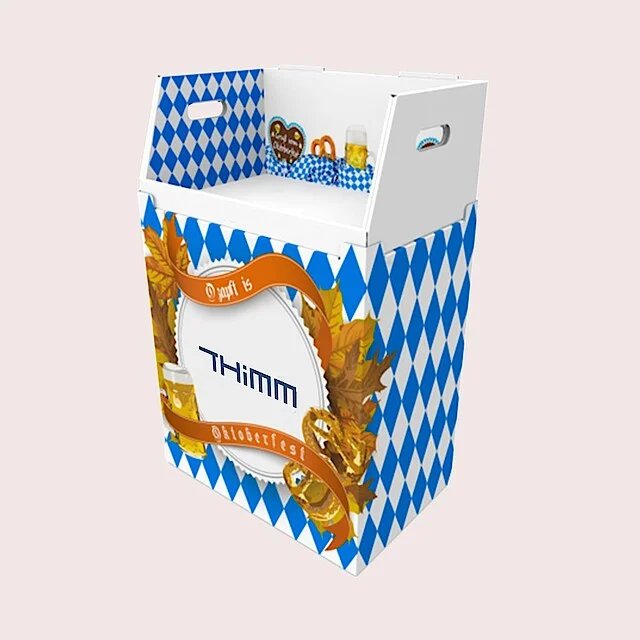 The corrugated board-based base is available in three standardised heights: 250 mm, 500 mm and 700 mm. The corrugated board display base can be placed with a plastic pallet in quarter-pallet format or as a display stand with direct floor contact (without pallet).
Shelf trays made of corrugated board are used for the product placement itself. The trays can also be selected from a standard size portfolio or individually constructed for specific products. 
To make the product and brand jump into the consumer's eye with the corrugated board display base, we use state-of-the-art printing processes such as digital printing for high-quality designs. Individualisation, traceability and interactive customer communication are just a few of the advantages that digital printing brings.
For more stability and load-bearing capacity for the corrugated board display base, insertable web sets are available. On the one hand, the inner construction can be made in one piece and folded like an accordion through grooves in the corrugated board. On the other hand, the web set can consist of two parts that can be inserted into each other through prefabricated recesses. Especially in the case of products with higher weights that weigh on the individual layer or per tray, such as beverage bottles and cans, detergents or fruit spreads in jars, the stay set provides more stability.
Toppers can be used as a final display element, which are placed on the top tray. There are also standard designs in rectangular form or individual shapes that we can create for you with our modern digital laser punch. In addition, we offer you a further possibility to increase visual attention with movable elements, so-called "wobblers".
Would you like to increase the sales of your products?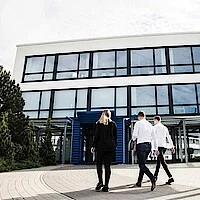 Get counselling now:
Sina zum Berge
New Account Specialist
+49 5551 703 0
hallo@thimm.de