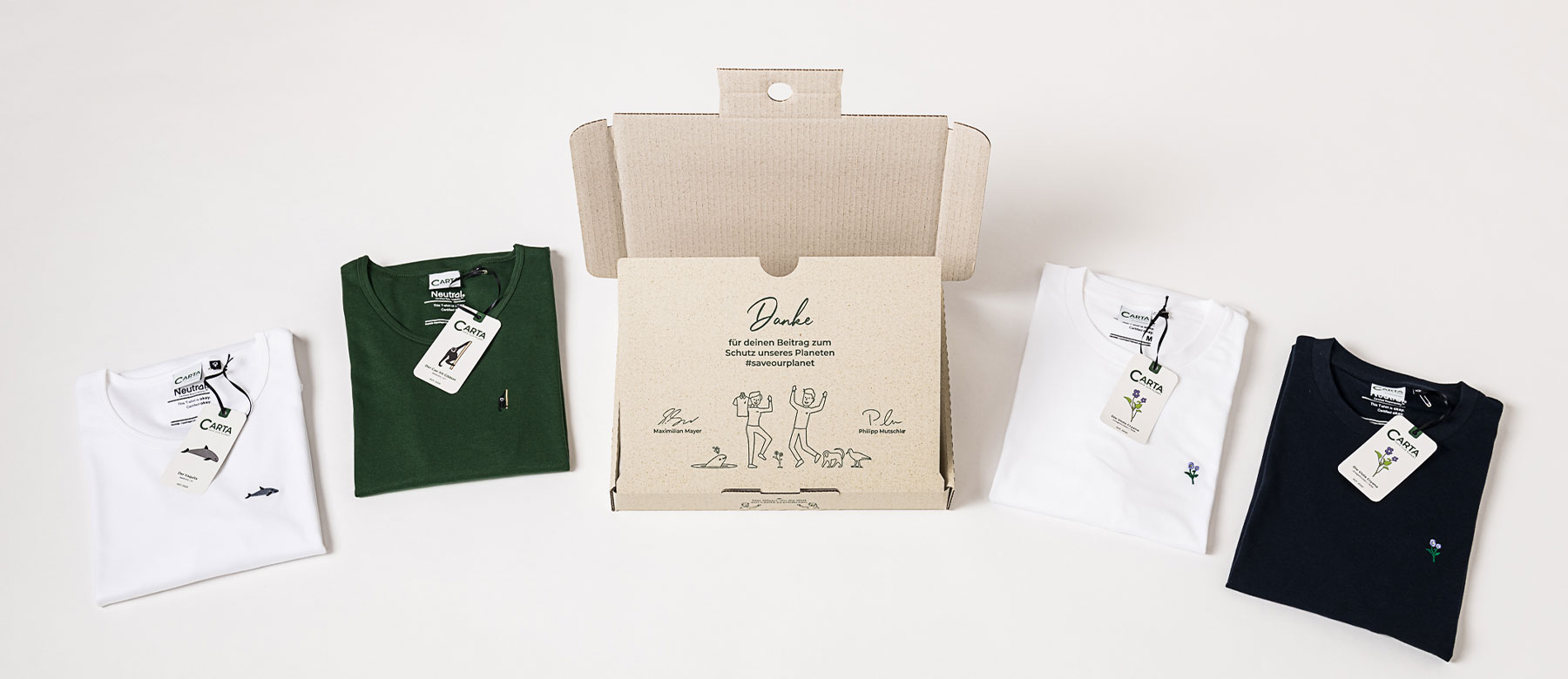 Company:

CARTA Clothing

Sector:

Clothing

Type of packaging:

Shipping packaging

Product:

Sustainable fashion
Species protection, sustainability and digital technologies – at first an unusual-sounding combination that does not directly indicate a fashion brand and also raises some questions. What does fashion have to do with species protection and how can clothing and digital technologies be combined? The start-up company CARTA Clothing has found a way to combine sustainable clothing and digital technologies and also support species protection.
A young start-up with an inspiring vision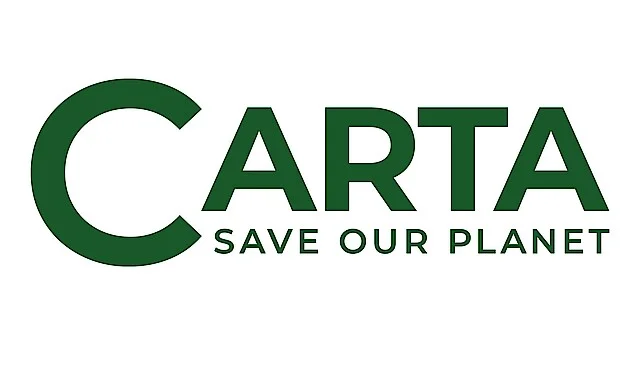 Founded in summer 2020, the young start-up CARTA Clothing has since been trying to increase environmental awareness in society by drawing attention to the history of endangered and extinct animal and plant species through the creative and entertaining use of digital technologies. Since early 2021 the start-up – which specifically differentiates itself through its digital interaction – has been selling sustainable and fair fashionin its online shop. Through the innovative use of computer vision and augmented reality, customers can find out about endangered or extinct animals and plants and even bring them directly into their living room. By simply taking a photo with a smartphone camera of the printed embroidery pattern on the ordered item of clothing the customer will learn more about the history of the endangered animal or plant species.

In addition to its internal environmental and sustainable orientation of production processes and supply chains, CARTA also supports animal and environmental protection organisations in their rescue of endangered species. For this purpose, 10% of the sales revenue of each item sold is collected and donated to a selected organisation such as the Jane Goodall Institut Deutschland (JGI). Through its cooperation with these organisations, the CARTA Clothing team is pursuing the goal of protecting animal and plant species threatened with extinction and by extension also the environment and the planet. All in the spirit of economy and ecology.
Functional and environmentally-friendly packaging for e-commerce: Sustainable clothing packaging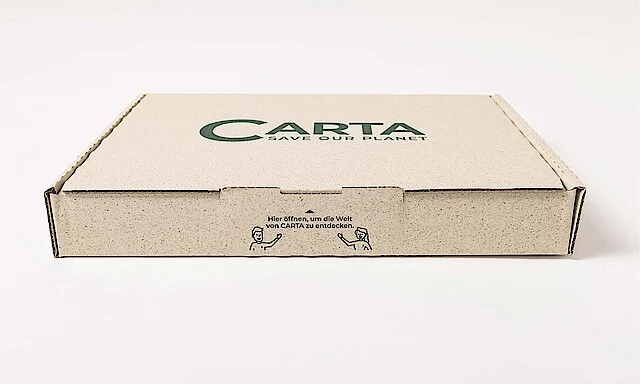 A start-up such as CARTA Clothing that focuses on sustainability and environmentally-friendly business, also requires suitable clothing packaging that meets both the functional requirements of online retail and also reflects the sustainable orientation of CARTA.
If you order your clothing online, you naturally want to receive it intact and in its original condition. The THIMM ParcelProof e-commerce packaging solution which has an integrated security lock made from corrugated cardboard, ensures the order is protected as securely as possible throughout its entire shipping journey. In addition to safe transportation, the shipping packaging protects against theft, as the locking mechanism on the packaging cannot be opened without destroying it.
At CARTA, sustainability and environmental protection are paramount, which is why packaging must also comply with the start-up's sustainability goals. The use of ecological grass corrugated cardboard and a locking mechanism made entirely from grass corrugated cardboard means the clothing packaging is 100% sustainable and can be easily recycled.

E-commerce is booming and more and more companies are committing to online retailing. This is why it is particularly important to stand out from the crowd through intensive and exciting printing. The simple yet memorable print image on the packaging combined with the unique look of the grass corrugated cardboard reflects CARTA's vision and really catches the eye. A personal message inside the packaging also helps delight the customer and create an exciting unpacking experience. This is how your customers become fans. 
Philipp Mutschler, one of the founders of the green start-up, comments on the cooperation and final clothing packaging solution:
"Our mission, and also our goal, is to create a sustainable and fair fashion label that plays its part in protecting the planet through the experience-rich and exciting deployment of digital technologies. Therefore it was particularly important for us to identify a sustainability focus in our packaging. THIMM Group immediately picked up on this idea and the outcome of this fantastic collaborative effort was the creation of a packaging solution made from grass corrugated cardboard, which not only guarantees safe shipping, but also helps protect our environment."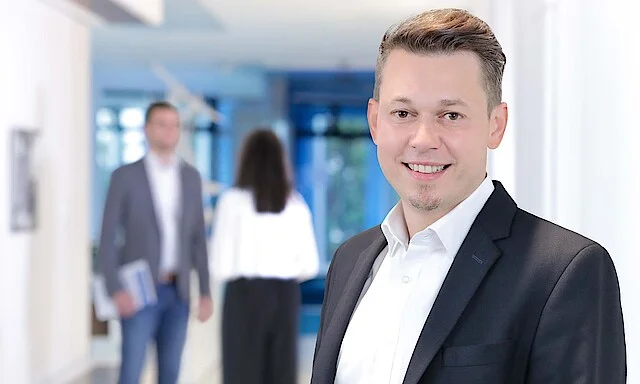 THIMM has supported and assisted the start-up in creating the vision and developing the clothing packaging:
"Together with CARTA Clothing, we have developed e-commerce packaging that is perfectly aligned with the vision of the start-up and its goal of environmental protection. The wishes and requirements of CARTA Clothing were perfectly suited for the use of grass corrugated cardboard when combined with our THIMM ParcelProof safety lock. An innovative packaging design, including a printed thank you message inside, makes the packaging something very special and rounds off the brand message to the customers!"
Special features of the clothing packaging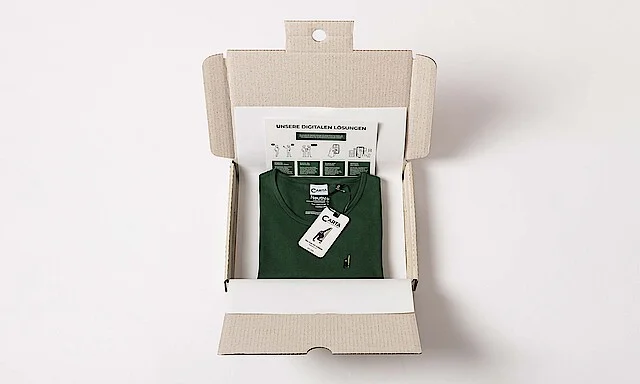 Safety along the entire transportation journey: The sustainable locking system with its innovative lid flap ensures the integrity and optimum protection of the clothing throughout the entire transportation journey. Thanks to this security design your order has the best possible protection against theft by third parties and will arrive with you in its original condition.  
Easy and quick opening of the shipping packaging: An integrated tear perforation enables the shipping packaging to be opened quickly and easily.
100% sustainable: As the locking mechanism is made from grass corrugated cardboard no additional adhesive tape is required for closing. This means that 100% of the clothing packaging is made from naturally renewable raw materials which can be disposed of with waste paper as a valuable raw material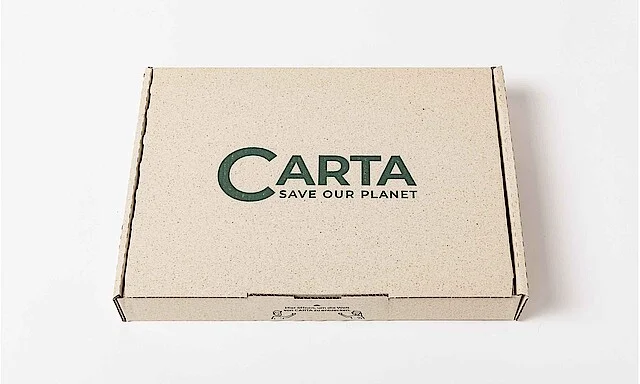 Customer message inside the packaging: The clothing packaging has been specially designed to create sufficient space inside to surprise your customers with a personal message such as a thank you note and a signature. Addressing customers directly ensures an unforgettable unpacking experience with a WOW effect which supports both your company brand and customer loyalty.  
Innovative grass corrugated cardboard: Unlike normal corrugated cardboard, grass corrugated cardboard consists of 30% grass fibres and 70% recycled paper fibres. Grass, the raw material used in this process and grown in the vicinity of the paper plant as part of landscaping measures, has led to a good 5% reduction in emissions in comparison to recycled paper processing. This is how grass corrugated cardboard contributes to resource conservation. This has a particularly positive impact on the environmental factors of biodiversity, soil quality and climate change. The combination of grass and paper creates a unique look that enables visual differentiation in the market.
Do you have any questions?