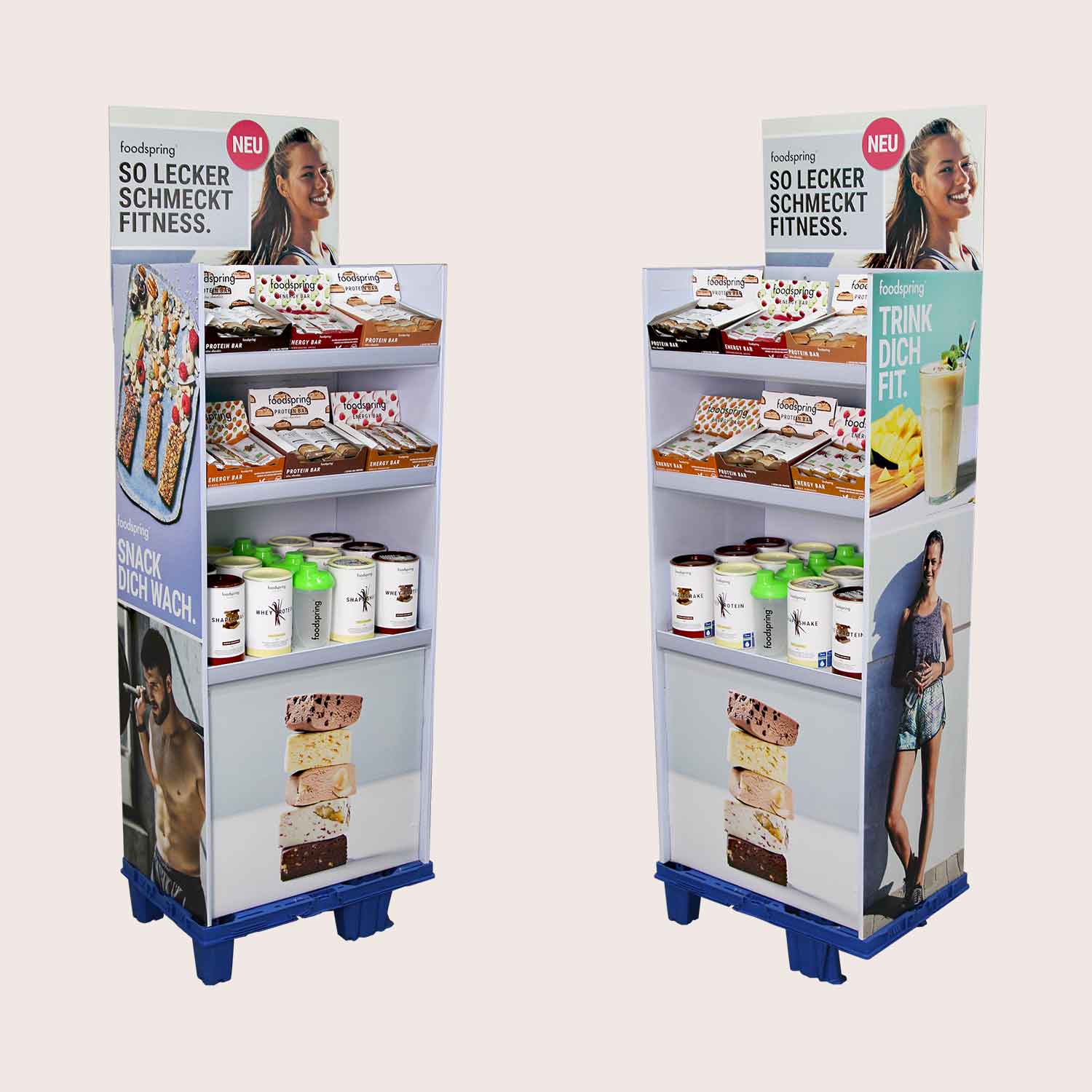 Company:

foodspring

Sector:

Foodstuffs

Type of packaging:

Pallet displays

Product:

Sports food
Conscious nutrition and regular movement form the basis for a healthy, balanced life. This is the motto at foodspring, a Berlin-based start-up that produces high-quality sports nutrition from nature's best. Whether you want to build muscle efficiently, increase endurance, lose weight for the long term or simply eat healthy and sustainably – foodspring has the sports nutrition you need..
Foodspring: Successful newcomer
Successful newcomerThe company first launched in Berlin under the name "egg," although it has since changed its name and branding to "foodspring." With the clear goal of improving sports nutrition and making a healthy lifestyle as simple as possible for everyone, foodspring has been one of the most successful newcomers of recent years. This is reflected in its constantly growing portfolio of new products. 46 new products were rolled out in 2018 alone, to great success! Yet there's more to this story than a bigger catalogue. The team itself has grown to over 130 employees, and the food start-up's large development department can now truly push the envelope with nutritional products that are a real joy to eat.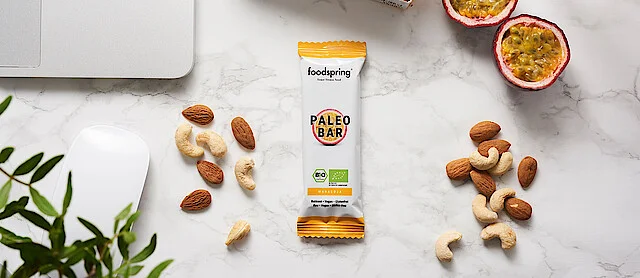 A well-spring of creativity and passion and expertise in the products they make – those are the ties that bind THIMM and foodspring. The two companies worked together to develop display solutions the fit the customer's precise needs. This includes a pallet display for retail use and a secondary pallet display for Crossfit fitness studios to help raise awareness for foodspring on the sports nutrition market. From protein and energy bars to protein powder and matching shake cups, space is needed to present both the company's large and small products.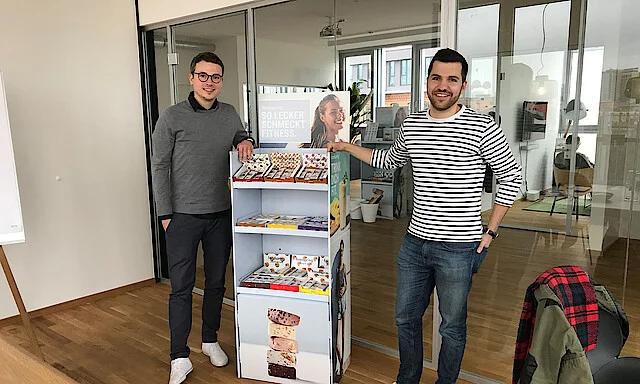 "Not long after that first meeting to discuss what was needed, a stream of design ideas started pouring in. A number of samples were created to provide a realistic image of how the individual displays would look. The open and direct channels of communication that we established from the start were instrumental in the success of the project. Taken as a whole, we were very impressed with the dedication, creativity and professionalism of the entire team at THIMM."
Nick Helleberg, sales director at foodspring
The best solution for foodspring: Pallet display as a result of successful cooperation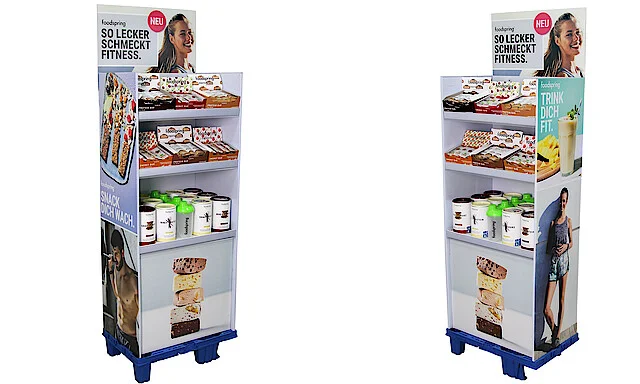 Facing the challenge of finding a marketing platform for two strong sales channels, the pioneer in the field of sports nutrition put a strong focus on quality and attention-grabbing design. For the permanent secondary placement, high-quality materials and the durability to carry heavy weights played a significant role. Yet even so, the pallet displays had to be flexible and capable of different configurations. 2,250 displays were distributed to points of sale in Germany, Austria, Italy, France and Spain, boosting sales of the sports nutrition products and increasing its brand recognition for the long term. The products were placed with retailers such as Rewe and Edeka, chemists dm and druggists on the French market.
Two different visuals were created to tailor the specific appeals for different retail outlets and Crossfit studio markets. A somewhat darker design was chosen for Crossfit studios, with a notable focus on natural production; the pallet displays for retail use feature brighter colours and the claim "Taste how delicious fitness can be."
Features of the pallet display
The pallet displays feature three or four shelves for an attractive product presentation
Two individual designs are used to ensure a tailored appeal to customers at the respective sales Locations
Fixed toppers increase visibility
Heavy-duty design allows for long-term placement of the products
Integrated ramps in the flooring of the shelves tilts the shelving for better presentation of goods
THIMM provides co-packing services for the pallet displays for retail outlets
Created from sustainable corrugated cardboard materials
Impressed with industry know-how and printing expertise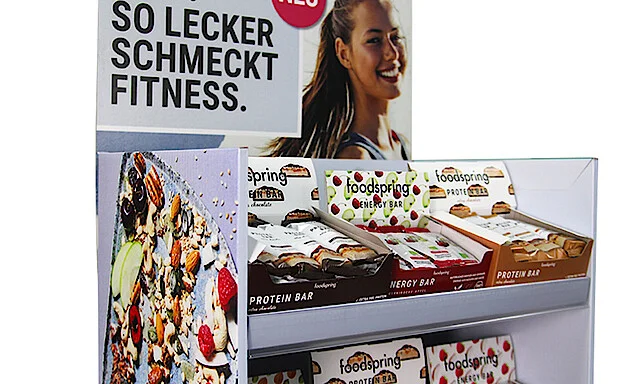 "We've often had good experiences with start-ups. Yet our collaboration with foodspring was something special. From the first time we sat down together, it was clear that it was a good fit. Our two companies were linked by a passion for innovation and for the products we make and for the desire to find the best solution for our customers. The open channels of communication that we established carried us in just a few months from those initial planning sessions, through brainstorming and design and onto production and delivery – all successfully."
Christian Reif-Maleszka, director of customer consulting
The high stability and flexibility of the structural design and quality of the printing helped make the pallet display a strong attention getter for long-term use at the point of sale. Offset printing allowed for all surfaces to be printed, lending extra flexibility to how the pallet display can be positioned in a retail store or fitness studio. Just one benefit of many for the pallet display.
Effective brand presentation through high-quality offset printing
Multiple display designs for one product Portfolio
Addressing customers personally increases impulse buying at POS
Pallet displays serve as a permanent second placement and can be stocked variably
Integrated storage shelves and ramp reinforce presentation of merchandise
To accompany the product marketing in retail locations and fitness studies, foodspring advertised with extensive TV spots as well as social media channels, influencers and affiliate marketing.
Do you have a question about our displays?