Floor Displays for Christmas Season
Display stand as fir tree as secondary placement
Get a quote now!
Christmas presentation: Sustainable fir tree floor display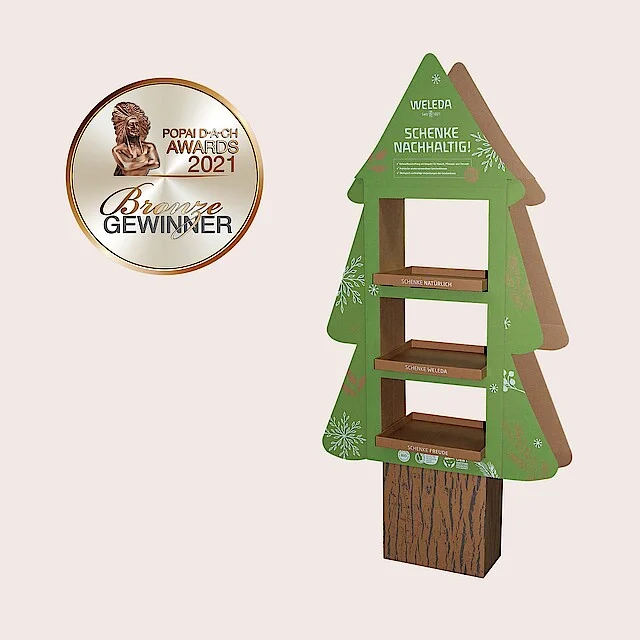 Target group oriented placement
Give sustainably! 
This was the motto with which Weleda started the Christmas season in 2020. The floor display for Christmas was designed in a matching fir tree look. The fir tree made of sustainable corrugated cardboard presents the winter gift sets on three levels. This gives your customers the opportunity to pick up the products at different heights.
100% recyclable

All corrugated cardboard packaging is fully recyclable – an ideal circular product.

Sustainable packaging

Corrugated cardboard consists entirely of renewable raw materials.

Customised design

Our printing technologies open up countless design possibilities for you.

Award-winning display

This display won a competition because of its properties.

Consulting

Receive a personal consultation – we will find your best packaging.

Sales promotion displays

Create additional purchase incentives at the point of sale with secondary placements.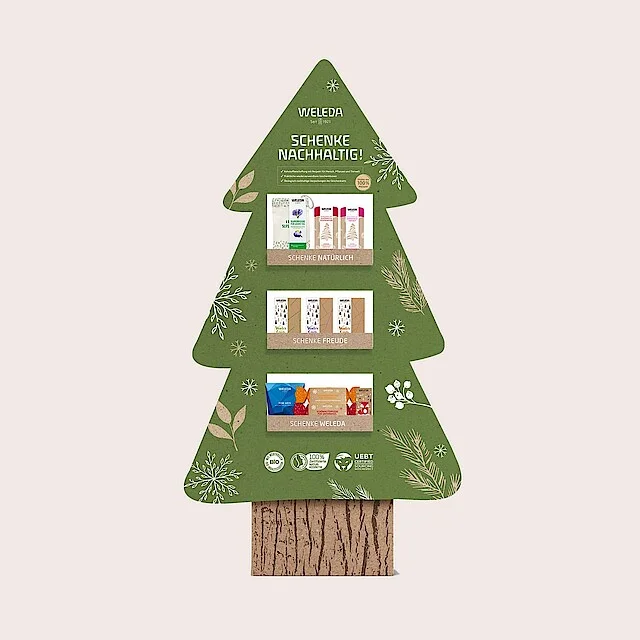 Place your products individually and target group-oriented. The printing on the individual shelf trays makes it possible to position inviting purchase motifs such as "Give naturally" or "Give joy".
Pictures say more than words. Especially when it comes to sustainability, you can tell a lot. Use our high-quality printing processes for your customer communication and let pictures and symbols speak for themselves. Examples can be found on the floor display for Christmas: 100% certified natural cosmetics, 0% microplastic ingredients, ingredients of natural origin and many more.
Constructive features
Products can be removed easily and at different heights: The three levels of the floor display for Christmas give the shopper the opportunity to 

Design form of the floor display guarantees product reference: Due to the design form of the fir tree, the buyer already recognises in advance that it is about products with a winter or Christmas reference.

Use of corrugated board made from 100% recycled paper
Advantages of the floor display for Christmas
Convey product information through high-quality print Pick up seasonal elements in your print image and set reference to the products already in the design.

Score points with sustainability: Weleda uses the synergies of natural cosmetics and the sustainable floor display made of corrugated cardboard.

Present several product groups in one display: The individual shelf trays give you the opportunity to place different products on three levels and thus address more target groups.
Sustainable corrugated board floor display for Christmas
The floor display for Christmas is made entirely of sustainable corrugated board. The special thing about it is that the paper used to produce the corrugated board is made from 100% recycled paper. This gives Weleda's Christmas campaign another ecological aspect.
Do you have a question about our displays?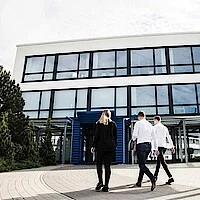 Call me:
Sina zum Berge
New Account Specialist
+49 5551 703 0
hallo@thimm.de