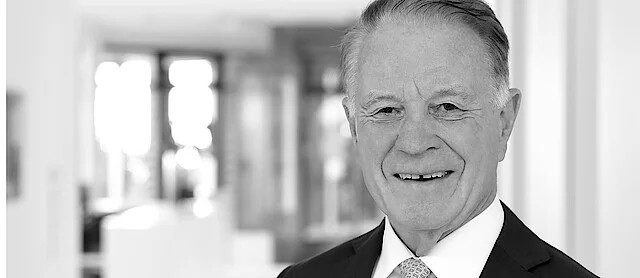 We say farewell to our senior partner Klaus Thimm, who died suddenly and unexpectedly on 9 December 2020 at the age of 83.
We say farewell to our senior partner Klaus Thimm, who died suddenly and unexpectedly on 9 December 2020 at the age of 83.
Klaus Thimm was born on 2 November 1937 as the first son of Walter Felix Thimm and his wife Herta in Altenburg/Thuringia. From 1943 to 1945, he attended primary school in Lucka, in the district of Altenburg and from the end of 1945, primary school in Groitzsch near Leipzig. After escaping to the British occupation zone in April 1949, he attended secondary school in Osterode am Harz achieving his Abitur school leaving certificate in 1957.
From 1957 Klaus Thimm studied at the Technical University of Darmstadt in the Faculty of Mechanical Engineering, completing his studies at the Chair of Paper Engineering in 1964 with a degree in engineering. During his studies, he worked at several pulp and paper factories in Holland, Finland and the USA.
Klaus Thimm joined THIMM Wellpappen KG in June 1964 with responsibility for research and development. From 1968 Klaus Thimm was entrusted with general management tasks in the company by his father. In 1970 Walter Felix Thimm accepted him as a personally liable shareholder in THIMM Wellpappen KG.
After his father died in 1983, he ran the company alone. Under his leadership THIMM experienced considerable growth. In addition to the Northeim site, three new plants were built in Germany (Castrop-Rauxel, Alzey and Eberswalde) as well as a fourth in Všetaty/Czech Republic. He also laid the foundations for THIMM Group with its five independent business divisions – THIMM pack'n'display, THIMM Packaging Systems, Christiansen Print, Cartonara and corrugAid, which are now active at a total of 20 sites in Europe. The well-being of the employees was always close to his heart.
In 1999 he handed over operational management to Mathias Schliep and joined the Administrative Board (former Advisory Board) founded in 1991 of which he continued to be a member until recently. At the same time, he was a managing partner of THIMM Holding GmbH + Co. KG and CONPRINTA Printing Technology, which he had acquired in Switzerland in 1993.
Leading the THIMM family business into the third generation was always a particular concern for him, and one which he advanced and shaped until the last moment. Klaus Thimm has transferred his shares in THIMM Group to his four children.
Throughout his professional life Klaus Thimm worked in several companies both as an advisor and as a member of supervisory boards. Klaus Thimm was also involved in social and cultural projects. He also held several roles in national and international corrugated cardboard industry associations.
On a personal level Klaus Thimm was a worldly, purposeful and well-travelled human being. He was highly respected in the corrugated cardboard and printing industry across all continents. His passion for art and culture kept him active and open-minded. He was a brave entrepreneur whose foresight and prudence always supported us. With him we have lost a visionary personality and a highly esteemed individual.
The company was his life.
Do you have any questions?