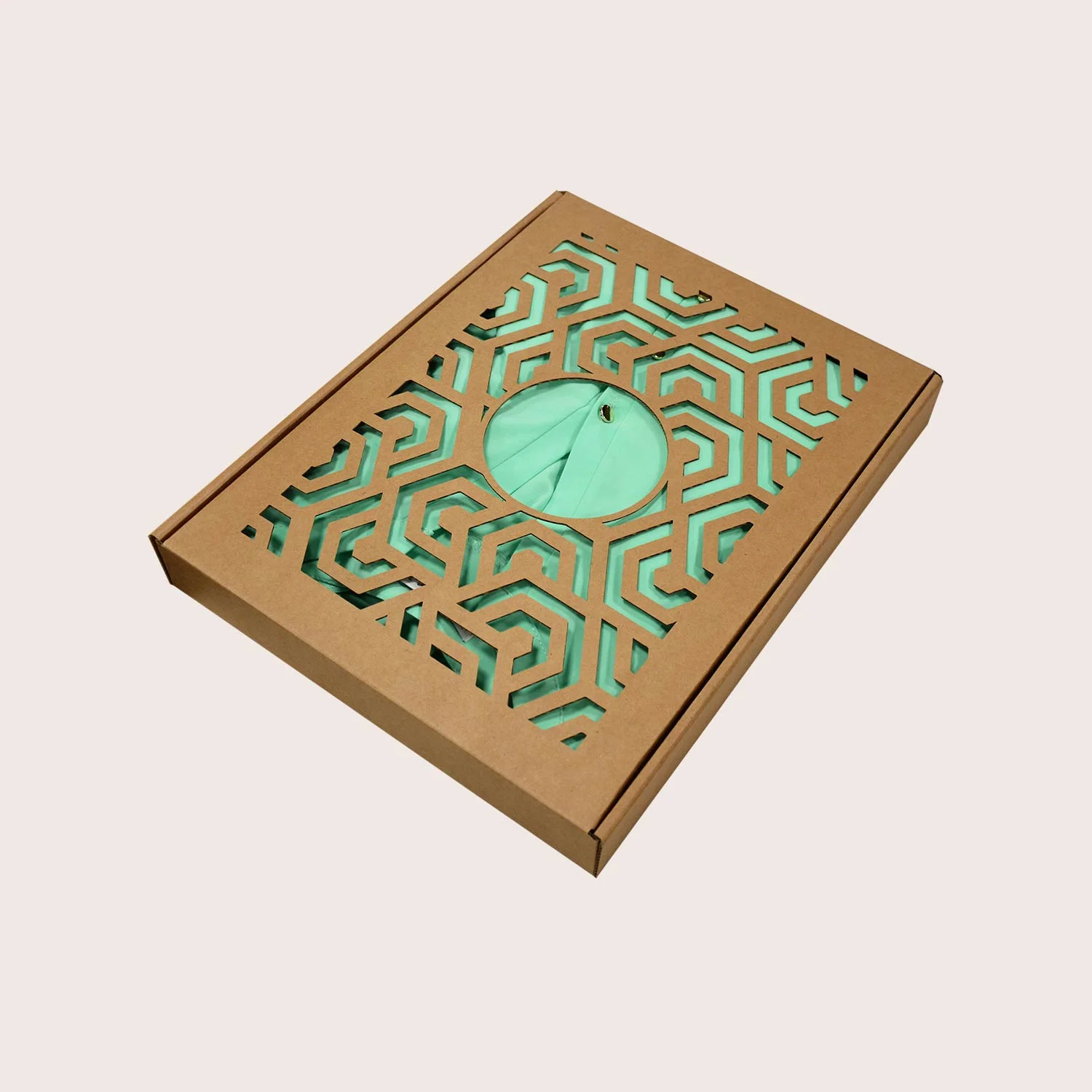 Individual, high-quality and unique gift boxes
Laser-cut motifs catch your customers' attention at first glance
The gift box is a special packaging development that supports the sale of shirts, and other garments as well as fabrics. With its unique design, the gift box attracts the customers' attention. With the help of digital laser technology, the lid of the packaging is provided with a pattern that makes it possible to recognise the goods in the packaging without having to open it. For example, shirts, blouses, jumpers, scarves and shawls as well as tablecloths and other fabrics can already be presented in a promotionally effective way through the small openings.
100% recyclable

All corrugated cardboard packaging is fully recyclable – an ideal circular product.

Unpacking experience

Positive unpacking moments improve the brand experience and customer loyalty.

Sustainable packaging

Corrugated cardboard consists entirely of renewable raw materials.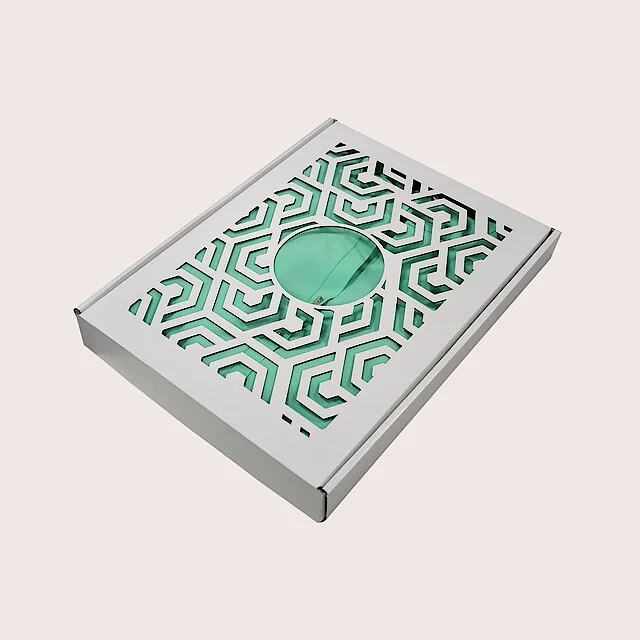 Because the items in the gift box can be seen through the lid of the packaging, customers and retailers can choose the color or pattern that they like or need at a single glance. In addition, each gift box is different in its final form, depending on which products or product colours are packaged in them.
A gift box with such a striking, laser-cut motif doesn't need any printing. That means you don't have to deal with any print data or costs for print blocks. Using a laser, not only can you cut holes in gift boxes, but you can also engrave text, your logo, various designs, production serial numbers, etc.

Laser cutting is very precise and accurate, which allows you to cut even the most complicated shapes, down to the smallest detail - fine art cutting. Another great advantage is the variability of the cutout motif. The motif can be changed for each piece so the packaging can be personalised or individualised, or it can change with the seasons. It is even possible to combine a laser-cut motif with printing.

The laser-cut motif makes the gift box a great option for luxury gift packaging and gives the packaged items an air of exclusivity. It makes packaged clothing appear more valuable. Laser-cut corrugated cardboard has not yet been widely used and it will definitely attract customers. Customers who receive their products packaged in an uncommon gift box will feel that the product they bought is unique. You can use the luxurious appearance of the gift boxes to distinguish your business from the competition. The gift boxes have a very elegant and luxurious look.

The gift boxes are extremely quick and easy to fold. Retailers can fold gift boxes at the POS quickly, intuitively and without the need for any additional packing materials. The gift boxes are easy to handle, which saves time. 

Your customers won't want to throw away such a nice gift box. They can also use it to wrap other gifts, and when they do, they will be reminded that they got it from your shop or e-shop. This will leave your customers with a positive impression.
Do you have a question about our packaging?
Are you looking for the best packaging for your products?
Jeannine Wegener
New Account Specialist
+49 5551 703 0
hallo@thimm.de