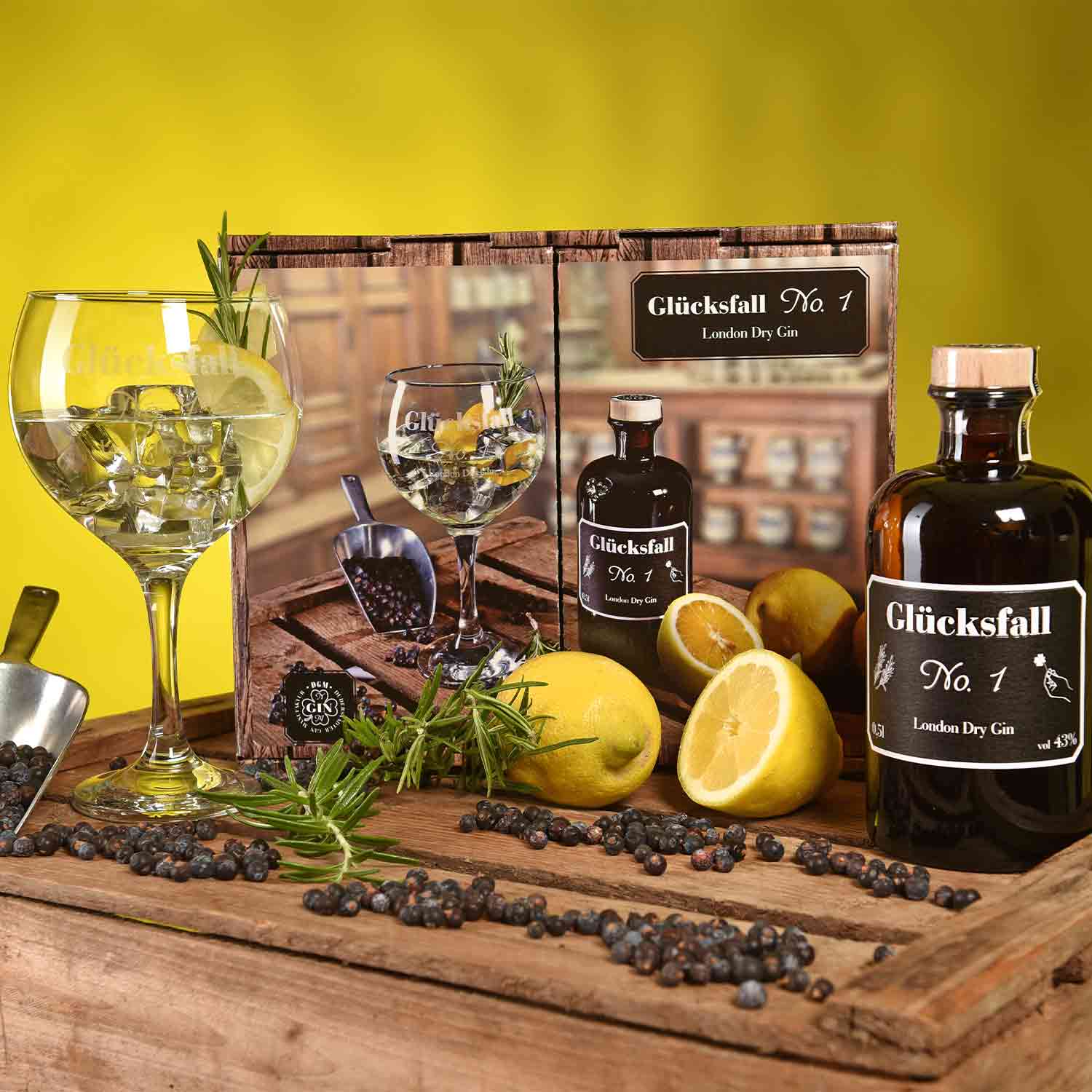 Company:

Duderstädter Gin Manufaktur

Sector:

Beverages

Type of packaging:

All-in-one packaging

Product:

Gin "Glücksfall No. 1"
Many people dream of "turning their passion into a career". However, this is often quickly discarded or forgotten at the first hurdle. That it's worthwhile to fight for one's dream is demonstrated by the inspiring history of Duderstädter Gin Manufaktur and its gin "Glücksfall No. 1".
From pharmacist to a successful distiller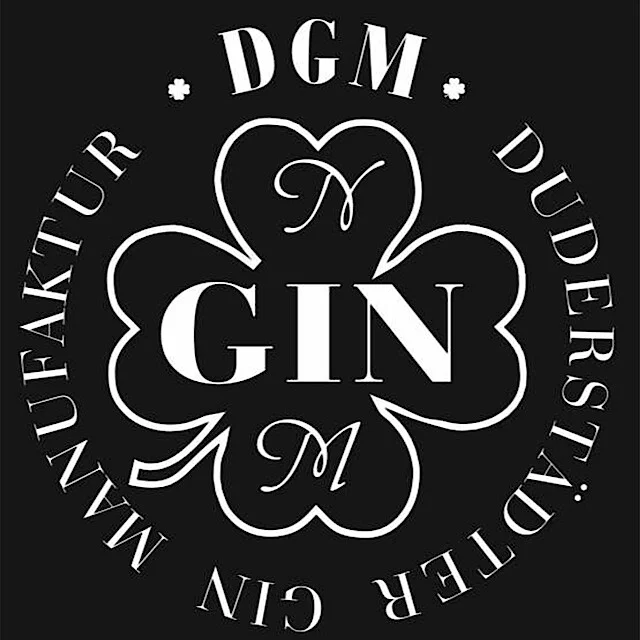 This title describes the exciting success story of the Hasse husband and wife team and Duderstädter Gin Manufaktur. Since early 2019 the young start-up has specialised in the development and manufacture of its own unique gin in the heart of Duderstadt's historic centre dating back a thousand years. What had initially been a leisure activity of pharmacist Hasse and his wife quickly developed into a passion. During an intensive and exciting development phase, fresh regional herbs and fruits were transformed into the recipe for London Dry Gin "Glücksfall No. 1", which has been distilled and bottled with love ever since. The refreshing taste of citrus fruits and rosemary is the perfect drink for cooling down on hot summer days and is a true stroke of luck for the senses.  
Have you acquired a taste for it? You can purchase "Glücksfall No. 1" gin from various distribution partners www.gluecksfall-gin.de or it can be enjoyed in hospitality venues around the Duderstadt region.
Retail and shipping packaging, gift box and counter display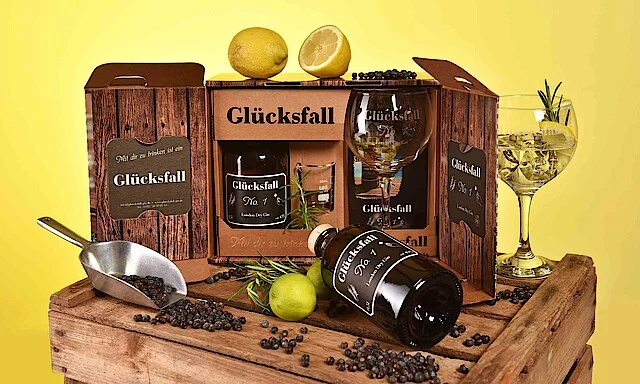 Exciting gin packaging as an all-in-one solution 
Quality, passion and an unforgettable experience is what the quality gin "Glücksfall No. 1" stands for and it is precisely these values that must also be reflected in the packaging. Therefore, the exciting history of the Duderstadt start-up has significantly influenced the development process and design of the gin packaging.
The customer's first impression is often crucial as to whether a product is purchased or not. The appealing design of the start-up's gin packaging immediately stands out through its wood grain which evokes the sensation of opening a genuine pharmacist's cabinet. The cabinet-inspired design with its two doors is quick to open and close and sets the stage perfectly for the products.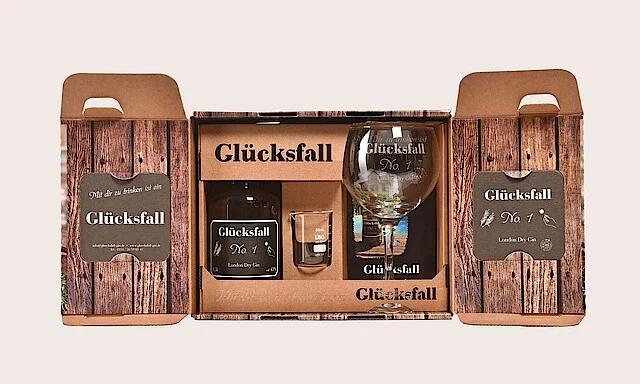 It's not just the gin that is a real experience for the senses. An exciting print image with a wood fibre look and the ingenious integration of advertising material into the packaging all create an immediate WOW effect when the packaging is opened. The integrated corrugated cardboard inlay ensures optimum product protection in the interior and draws attention to the medicinal design of the gin bottle, the associated glass and the engraved measuring cup. The elegant placement of the contents and the design of the interior complete the unforgettable unpacking experience and create a true event character. The highlight of the unboxing experience is the intricate laser-cut engraving of the inlay.
Thanks to its attractive design and robust construction, the gin packaging can also be used as a counter display for product presentation purposes or shipped online. The packaging is also perfect as a gift to delight your loved ones.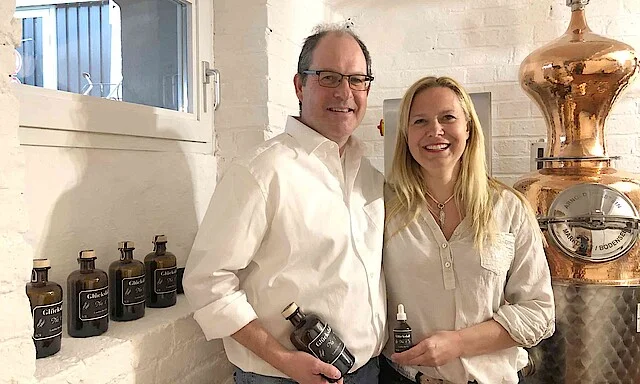 Michael and Nadine Hasse, owners of Duderstädter Gin Manufaktur
Nadine and Michael Hasse, owners of the Duderstädter Gin Manufaktur, comment on the final gin packaging:
"With THIMM pack'n'display from Northeim, we have found a fantastic partner who we could immediately win over with our idea of presenting our gin together with a glass and a small surprise in a pharmacy cabinet. We had built a sample just from a shoe box and a cutter, which enabled us to express our ideas of the end product. THIMM pack'n'display picked up on these ideas and gave us in-depth support with its high level of expertise and many years of experience. Our specifications for functionality, environmental protection, product protection, handling and visual impression were adopted and further developed by THIMM pack'n'display so that ultimately we received a perfect end-product for our gin. We have complemented our product range with this gift in the form of the pharmacy cabinet and that we can present our "Glücksfall No 1 Gin" in an even more effective manner."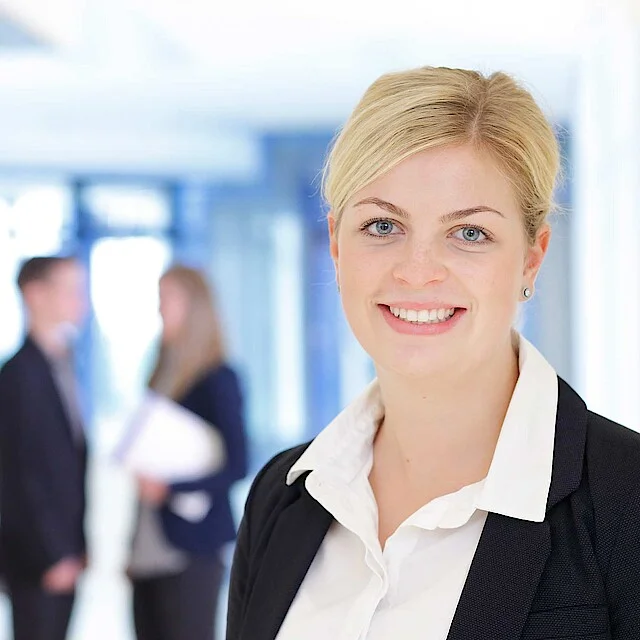 Laura Bruder, Marketing Specialist THIMM
THIMM has supported the start-up from the consultancy phase through to production in the creation process of the gin packaging:
"We were immediately impressed by the history of Duderstädter Gin Manufaktur and we are extremely delighted with the packaging that we were able to develop and design together with the customer. The challenge appealed to us because, as with many start-ups, the customer did not know at the start of their journey which sales channel would deliver the strongest sales. Therefore, an omnichannel solution had to be found. From a technical point of view, we were able to exploit our full potential for the gin packaging. From digital printing to laser cutting – the packaging is processed via a purely digital workflow, which enables us to accompany the customer on their journey with the best support possible. But the packaging is not only a pioneer in terms of technology, it also impresses visually with its spectacular design and passion!"
Special features of the gin packaging
Optimum content protection: Thanks to a custom-made inlay made from corrugated cardboard, both the bottle and the glass components are fixed inside the gin packaging which protects them perfectly from any vibrations. High-quality corrugated cardboard and stable product fixing ensure the secure transportation and the undamaged condition of the goods.    

Opening and closing made easy: Similar to a pharmacy cabinet, the gin packaging has two cabinet doors made from corrugated cardboard which can be opened and closed easily. Four tuck-in flaps seal the packaging and provide optimum protection during transportation.  
Effective digital printing: First impressions count, also for packaging. Thanks to the creative design options and overwhelming colour power of digital printing, the packaging for gin is an immediate eye-catcher and attention-grabber. In addition to the high-grade ink quality, digital printing does not require printing plates, which saves time and costs.  

Innovative and digital laser cutting: Digital laser cutting opens up a new world of customisation and design. Thanks to the precise laser technology, the most intricate shapes and delicate cut-outs are no longer a problem. The entire work process from design to production is completely digital and no additional die-cut moulds are required. This saves time and costs. Add a personal engraving to your packaging and surprise your customers with your special eye for aesthetics.   

Packaging for every situation: Whether as a gift box, shipping and hand-held packaging or as a merchandise-presenting counter display – the gin packaging can be used in a variety of ways and is suitable for online retail as well as for product presentation purposes.  

Environmentally-friendly gin packaging: The gin packaging is made 100% from sustainable corrugated cardboard and can therefore be disposed of safely as a valuable raw material with waste paper. 
Do you have a question about our packaging?